The excellent P1157E-871 15″ XGA TFT Intel® Core™ i family/Pentium®/Celeron® Expandable Industrial Touch Panel Computer with 2 PCIe or 2 PCI Slots has been released by CDS as its's latest panel PC product.
The P1157E-871 panel PC support the high performance 3rd Generation Intel® Core™ i7, i5 and i3 processors in LGA1155 socket with the Intel® C216 chipset. The P1157E-871 has reserved two PCIe or two PCI slots to fulfill different application needs. Built around user-convenience, this all-in-one superior touch panel computer provides a screw-less chassis design. To withstand harsh operating environments, it provides protection with aluminum housing and IP65/NEMA 4 sealing and offers reliable performance and quality. With the new Intel® HD 4000 graphics engine, the P1157E-871 can easily handle the demands of intensive graphical interfaces or 3D graphics. The user-friendly touch panel PC is best suited for factory automation, kiosk, and more industrial fields.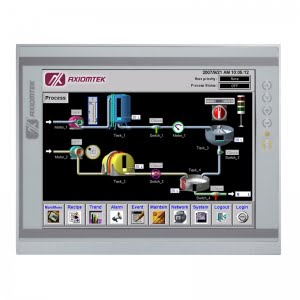 Features;
● 15″ XGA TFT LCD display – 350cd brightness
● LGA1155 socket 3rd & 2nd Generation Intel® Core™ i7/i5/i3, Celeron® & Pentium® processor
● Intel® C216 chipset
● Easy installation: a less screw design for user's convenience
● 4 USB 3.0, 2 USB 2.0 and 4 COM ports
● Flexible expansion interface (two PCIe x8 or two PCI slots)
● Built-in speakers and optional Wi-Fi 802.11 b/g/n module
● Robust aluminium with IP65 compliant front bezel design
To check out the full range of industrial panel PCs please visit our Industrial Panel PCs webpage. For more information including pricing and a data sheet please email info@crystal-display.com or call our main office on +44 (0) 1634 327 420.