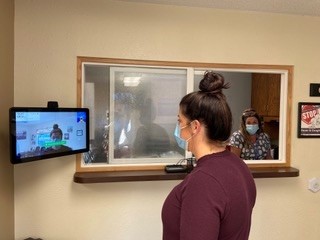 As we know the healthcare sector is constantly changing as they look for any technological advantages and improvements they can find, and touchscreens are no exception as they become more prevalent. Some have thought this only in the USA which has a huge private health service, but touchscreens are now becoming more prevalent all around the globe as they offer many advantages.
Touchscreens are an important part of how this change is occurring in the healthcare sector and we can see how some of the major ways touchscreens are impacting healthcare:
Self-service information point touch screens improve check-in times in clinics, Doctors surgeries and hospitals for 3 in 4 patients and improve wayfinding within hospitals.
New processes for quickly categorising and diagnosing patients are now possible with touchscreen "reception" desks which improve the efficiency of seeing patients.
Applications such as touchscreen-enabled bedside terminals and psychiatric care screens are now integral parts of the care systems of many clinics
Hospitals are also beginning to use touch screens to improve accessibility, including "dimpled" touchscreens for visually impaired users.
Touch screens can considerably improve hygiene when compared to traditional buttons in medical devices and technologies.
Rapid identification of Health Needs
Touch panels can also provide a valuable way of asking quick screening questions for patients entering the hospital. This can allow key information to be ascertained immediately upon arrival; for example, if a patient selects the option that they are experiencing flu symptoms, the screen can ask the follow-up question "have you received a flu vaccine or Covid vaccine in the past 12 months?" The options are unlimited which will transform the way they approached healthcare.
Screens for Information
The implementation of informational touch screens in hospitals, doctor's surgeries, clinics and other healthcare centres can significantly improve check-in times and help manage the flow of patients in busy hospitals. However, this technology is still not widely implemented in the sector despite its proven efficiency; this study from the California Healthcare Foundation discovered that although 75% of patients felt that checking in via a kiosk was faster than checking in through a receptionist, only 5% of hospitals provided touchscreen check-ins.
The use of touch screens can also help patients to find their way around big hospitals. A study at Emory University Hospital discovered that wayfinding challenges cost the hospital more than $220,000 per year; however, touchscreen solutions have been proven to assist in this regard. After Boston Children's Hospital introduced a smartphone app to help visitors with wayfinding, 65% of users said it improved their experience, whilst a study of the 3rd largest UK hospital discovered that over 86% of users who interacted with a touch screen wayfinding monitor found their desired destination without requiring further support.
Touchscreens are Easy to Use and Accessible
One of the major challenges in healthcare today is making services accessible and user-friendly. One of the solutions the medical sector is currently using to solve this is touchscreens; a touchscreen is something intuitive and simple to use which most users can understand with minimal learning required. With no fixed user interface, these screens can also be continually updated with new user improvements as required. New adaptations to touchscreens in hospitals are even allowing these technologies to aid the visually impaired etc.
Touchscreen Terminals at the bedside
You have seen many displays and touchscreens in hospitals now and in the busy environment of a hospital or medical centre, information needs to be accessed and recorded as quickly and efficiently as possible by nurses, doctors, and other medical professionals.
Touch screen bedside terminals are an easy way for these people to gain access to critical information about a patient as required, especially if a patient is asleep or incapacitated and unable to provide information to a passing member of staff about their state. These bedside terminals have been successfully implemented in many hospitals around the world, allowing for a standard of healthcare not previously possible.
In addition, certain touchscreen technologies have been developed to allow interaction whilst wearing latex gloves and other protective gear; these touchscreens are allowing medical professionals to safely access critical information at a speed not previously possible, offering dramatic improvements to patient care especially when time is a critical factor.
Psychiatric Care services
The varied uses of touchscreens have even found effective applications in the care of psychiatric patients in acute or long-term care facilities. Recornect, a Dutch mental disability care solutions company, used large, robust touch screens to allow patients to control aspects of their living space such as the ambient lighting, choosing entertainment or making calls to family or members of the medical team. They also allow psychiatric professionals to administer visual rehabilitative treatments safely from another room in a non-confrontational manner.  The flush nature of the design means that the system was free from projecting parts, switches, bezels, and buttons which could be damaged by aggression or used to self-harm.
Improved Hygiene
Although hygiene has always been a significant consideration in healthcare facilities, it has never been more vital than now. With the onset of COVID-19, it is now crucial that all aspects of healthcare are as hygienic as possible to help prevent the spread of the virus.
Whilst traditional buttons and keyboards still form a large part of hospital infrastructure, for example in reception desks, lift controls and more, these can provide potential hotspots for spreading microbes and harbouring dirt. With the moving parts, nooks and crannies of mechanical buttons, thorough cleaning and disinfection is challenging. However, a suitably designed touchscreen provides a single unbroken interface which can be disinfected quickly and efficiently multiple times a day.
Touchscreens are now available made from antimicrobial glass or which have specialist coatings applied. These can impair and, over time, kill microbes on the surface; together with a regular disinfection regime for the screens, these can help reduce the spread of bacteria and viruses within medical centres.
CDS is a touch screen developer who has worked on award winning touch screens and applications for more than 10 years working with manufacturers such as the UK based Zytronic to create the ideal and optimised solution for your application.
Call us today +44 (0) 1634 791600