Why is CDS's touch interactive business growing across the board?  
There are many reasons for the growth in CDS' touchscreen solutions. The main reason being that now we have the best in class standard of reliable accurate touch. This has opened up many more opportunities for us but also, once our customers test the samples they see this reliability for themselves. There is a clear movement towards PCAP as the standard just like iPhones and iPads. However, some applications still require a high quality resistive touchscreen, and of course we can still assist with that.

CLICK HERE TO CHECK OUT THE CDS PCAP TOUCH SCREEN OVERLAYS
The other major driver in our touchscreen solution boom is that digital touchscreens are everywhere! Touch displays are growing as the public become more confident in using interactive applications. The flexibility available through hardware and software means customisation is not only a possibility, but a preference for many companies and PCAP touch is ideal for this. CDS touchscreen solutions provide the ability to empower customers, staff and stakeholders while elevating creativity and efficiencies.
It's an exciting time to see how different industries are integrating CDS's touchscreen technology to enhance customer experiences and their own capabilities.
CHECK OUT THE CDS TOUCH SENSOR COMPONENTS HERE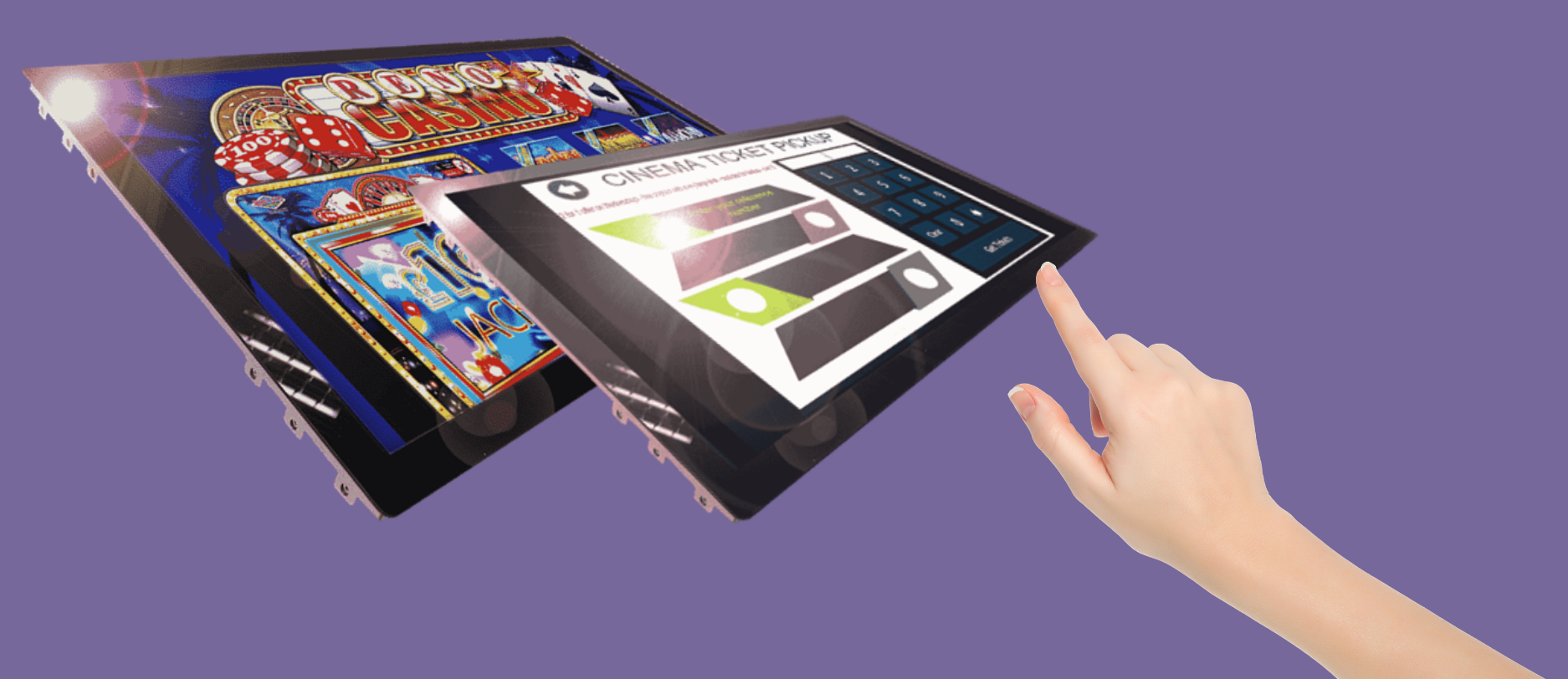 Here are some examples of our applications for CDS Touchscreen solutions and interactivity we serve:
1. Transport, Travel, and Industrial
Travel can be a stressful time, often resulting in customers going from calm to chaos. CDS products can ease the strain in various ways for the transport industry, from digital bus time tables and taxi touch screens and many other applications. From the basic convenience of tracking where your ride is, to doing a quick cost calculation. To buying tickets or exploring a foreign place. Customising a digital touchscreen to a niche purpose or application is possible. Transportation and travel signage can help ease a traveller's experience and result in a satisfied customer.
2. In-store Retail
Retail has really pushed the boundaries with digital engagement and integration. Particularly brands, restaurants and self-service centres. The technology available through CDS's digital touchscreens is opening up the floor to "WOW-factor" brand experience, more than ever. The applications for interactive elements are varied, with the central focus always staying on the customer. Empowering the customer through social media activation and digital browsing of the brand story, allowing the brand to offer a true service experience and not just a product. The ease of interaction increases dwell time and has proven to result in increased sales.
3. Audio Visual & Entertainment
Entertainment areas including theme parks, stores, art galleries and stadiums can be hives of activity. CDS have focused in on a few key elements of engagement that can be elevated through our interactive technologies. A major benefit of our touchscreens is the capability and flexibility of building dynamic layers in the content, providing as little or as much information on the screen as the user needs. Plus 'soft buttons' can be updated quickly, unlike traditional mechanical hard buttons. Locations can come to life and increase vibrancy through dynamic visuals. Videos will resonate with customers as they move through high activity spaces such as shopping malls or casinos for example. When the screen is not being interacted with, entertainment precincts can take the opportunity to make promotions. Specific information can really stand out and result in an extra dynamic marketing tool and / or sales person!
Touchscreens can be utilised for timely communications, real-time messaging and for allowing customers to explore their options. CDS's quality and reliability is supporting it's customers to allow them to build some of the aforementioned products and services, including full touchscreen monitors.
For more information or to discuss your project requirement please contact CDS on: +44 (0) 1634 791 600 or email info@crystal-display.com