Create – Deploy – Touch with our amazing Touch Content Management System 
CREATE
Buttons– Link your different pages together and trigger a host of different actions such as prompting videos to start, launching websites, linking to different pages or playlists and even launching Android compatible applications.
Webpages– Display your company website, your social media feeds, online maps, HTML 5 elements and much more.
Videos– Set your videos to play automatically or assign a "play" button to have them play on command. You can even assign multiple buttons to play different videos on the same page, allowing you to create a video galley.
Images– Insert your images into this zone and set the duration time and transition effect to display your images like a slideshow.
Media Galleries– Create user friendly galleries of your image and video content. Personalise your carousel with the length of each slide and the transition affect.
Static Text– Allows you to input custom text values. Edit the font, colour and size of your text.
Scrolling Text– Display a scrolling ticker tape message.
Weather Widget– Display a real time local weather forecast at a glance.
Time & Date– Display the time and date in a variety of different formats and choose exactly what colour you want to use.
Backgrounds– Set a specific colour or use your own image as your background to frame your media zones. You can also design your entire interface, including buttons, as a background image and then place empty button zones over your graphics.
Apps– If you have an Android compatible app that you would like to use you can integrate it into your Touch Screen content. It can then be launched within the playlist with the touch of a button.
Branding– Insert your company's logo and use the company colours to completely personalise your Touch Screen Content.
Screen-savers– You can set a "timeout" period for your content so if the screen isn't touched during this period you can assign a separate playlist to display automatically. This can include images, videos, webpages and even RSS feeds.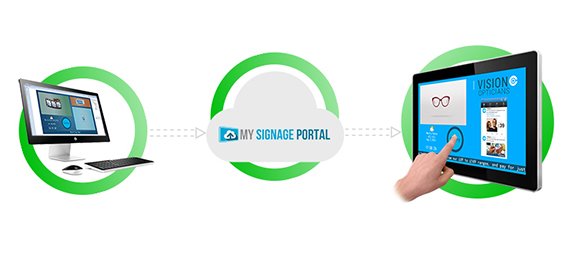 DEPLOY
Update from Anywhere– Your Touch Screen Playlists can be uploaded and managed from anywhere in the world via our Online CMS. Simply login, create your touch playlist and send them directly to any number of your touchscreens in matter of seconds.
Remote Control– Thanks to the all-in-one nature of our Touch Screen Solution. You can now remotely control functions such as adjusting your screen's brightness, rebooting or formatting your screen, setting, non-touch playlists as screen-savers, playing and stopping content, adjusting the volume and scheduling on/off times; a truly centralised solution.
Manage Users– Create as many bespoke user accounts as you like. You may wish to limit some functions of the software to specific users, for example you may wish to allow a receptionist to upload media and have access to the screen in the reception area but nothing else – our system allows full user rights control.
Connectivity– Connect your Touch Screen to the internet wirelessly via Wi-Fi or via a Local Area Connection. If an internet connection is not available a 3G router can be incorporated into the screen, meaning that we can provide an integrated network solution for any location.
TOUCH
This amazing touch CMS is available on the following products;
AIO PCAP touchscreens
Infrared freestanding touch posters
Cloud Networked Media Player
Outdoor Touch Range
To check out our full solutions at our Digital Signage page.
For more information please email info@crystal-display.com or call our main office on +44 (0) 1634 327420.