CDS can offer touchscreen fitting to customers, for TFT LCD's and monitors – by using our UK facilities, it means our customers do not have to take the risk as we can fit the custom touch screen avoiding breakage, misalignment, or contamination.
Depending on the application and budget we can use our highly effective strip bonding method or optical bonding also.
Strip bonding is the application of a double-sided gasket around the edge of the display on its bezel. The touchscreen is then accurately positioned over the display in a clean environment using lamina flow cabinet to avoid contamination.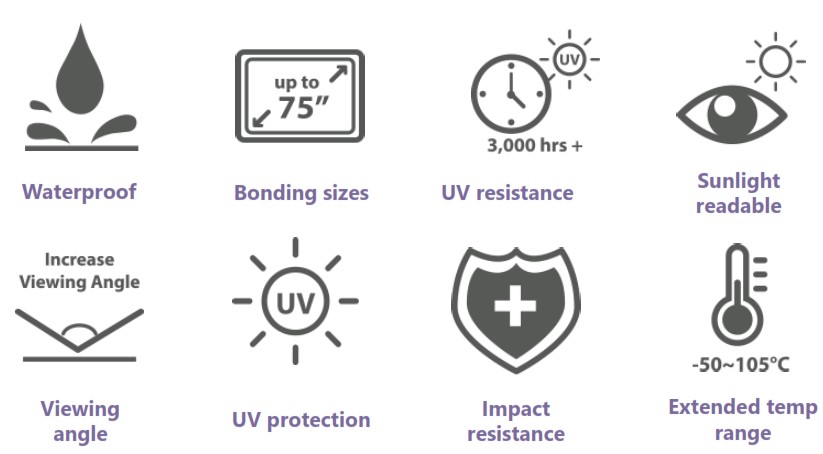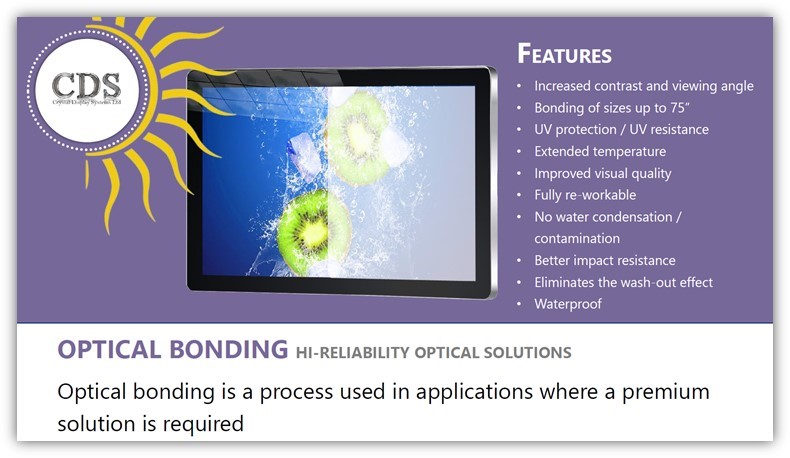 Optical bonding is the application of an optical clear compound between the complete display / touch sandwich. This compound has adhesive properties ensuring the components are held in position. Generally used for more HIREL applications such as outdoor kiosks, medical and military, optical bonding gives the highest quality solutions.
Both solutions of touchscreen fitting use high engineered jigs to ensure consistent positioning from touch screen to touch screen and from batch to batch. Over the years we have tuned the process to optimize our reliability so our clients will have the comfort to know that if there is an issue, as CDS are providing an assembly solution, the problem falls with CDS. We have seen many issues where customers have misaligned, scratched the display / touch glass or even broken the touch glass or display which becomes an expensive mistake. The worst being where a client fitted over 200pcs of a touchscreen 180° in the wrong orientation. CDS can take this risk away for a small cost adder.
Optical bonding is the addition of an optical gel between the front surface of an LCD and the touchscreen / cover glass. The selection process of the cover 'substrate' is as critical as the process itself.
Traditionally, when a glass or touchscreen was fitted over the display they were 'strip bonded' together using the bezel of the display. This left an air gap (void) between the two layers.
This method is adequate for most applications due to its low cost and simplicity, but this void can be problematic for solutions which are used outdoors or in high ambient light. In these environments internal light reflections within the void often make a transmissive TFT LCD unreadable due to loss of contrast caused by these internal reflections. By filling this void with an optically clear compound, these reflections are reduced, and readability massively increases. Used in conjunction with a high bright display this offers the optimum outdoor solution.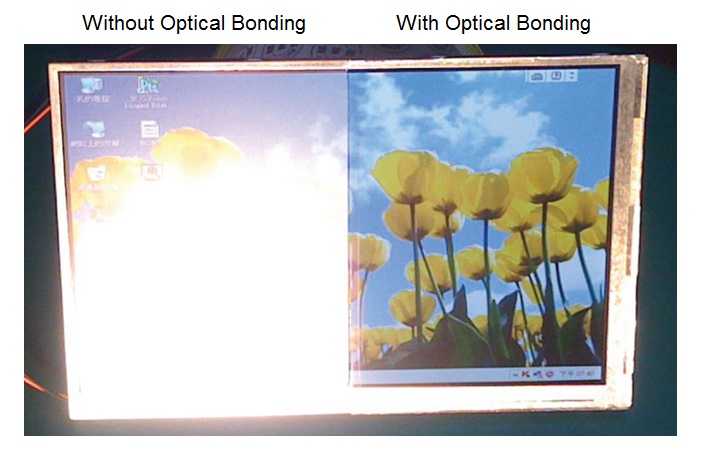 Increases contrast ratio in high ambient light conditions
Bonding sizes up to 75"
UV Protection
Extended Temp range
Reduces parallax
Sunlight Readable
Better Impact resistance
No condensation
No contamination
Improves Clarity
Better heat dissipation
Want to get started? Contact our sales team today.
Quality Built High Bright Panel PC from CDS
1,500 nits Optically Bonded 21.5″ Panel with 3mm AR Glass Verses Direct Sunlight!
Call us today +44 (0) 1634 791600