CDS 7″ to 82″ Digital Advertising Displays
Advantages of CDS Digital Information Displays:
UK stock often available for speed of supply

High reliability solid state media player technology

Scheduling software Free of Charge with each unit (where applicable)

Sleek modern designs

Cost effective solutions

Lockable compartment to protect mass storage

Suitable for 24/7 usage

Free eco-friendly power timer to reduce costs and energy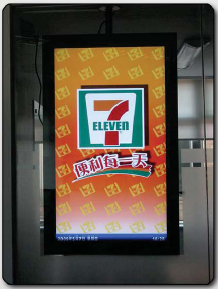 The brand new range of Digital Advertising Displays can be used in either landscape or portrait mode, depending on the requirement.
These versatile displays are simple and effective in many different applications.
With sleek, elegant tempered glass styling, 24/7 usage and wide viewing angles means they offer many advantages over using home TV's for commercial displays. The Digital Advertising Displays also tend to be a lot brighter than consumer TV's and have no external buttons / controls.
The built in Media Player allows for a simple plug and play method for content update making them extremely user friendly.
They also have a lockable compartment for mass storage devices used to update the content. A free landscape wall mount comes as standard.
The Digital Advertising Displays also come with simple scheduling software, which allow the user to set up playlists with images, music and video to play at different periods of the day.
The screen sizes of the Digital Advertising Display range start from 7″, ideal for shelf edge and point of sale displays, right up to 82″, more suitable for poster displays for larger environments.
These CDS Digital Information Displays are also ideal to use in supermarkets, department stores, pharmacies, show rooms, banks, bars and restaurants as well as train / bus stations, travel agents, hospitals, schools, museums, cinemas and conference rooms.
Here you can download an overview of our most popular sizes.
If you need any further information, please contact us.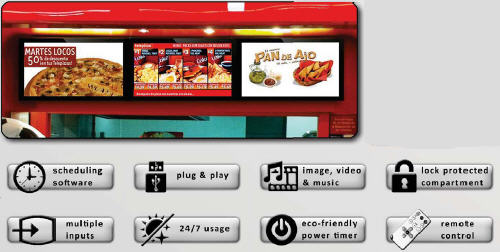 [/fusion_builder_column][/fusion_builder_row][/fusion_builder_container]