Networked Digital Signage and Cloud Based CMS

Our new Networkable Slimline Displays with Cloud Based CMS are now available.
We currently offer 19″, 22″, 32″, 42″, 46″ and 55″ for the wall mounted versions and then we also offer the 46″ and 55″ as a freestanding solution.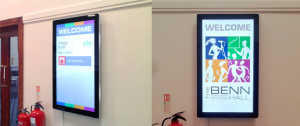 These displays are fully integrated network ready digital advertising displays with cloud based CMS.
With this simple yet effective software, you can update the displays remotely, overlay a promotional message on top of the content, or even power the screens on / off and adjust the volume etc.
As with all our solutions they are very competitively priced whilst maintaining a high standard of quality, functionality and reliability.
For more details on the cloud based CMS, please visit: http://www.mysignageportal.com/
Customers are also advised to watch our online video tutorial;
http://mysignageportal.com:8001/cdms/support.html
For the first year the software license is free when you purchase your display , and after 12 months you will need to pay the annual fee of only £79 per display.
See the PDF  brochure below for more details and technical specification.