Due to increased market demand we now have a limited stock of 50″ Double Sided Freestanding Digital Posters. You can now double the impact you make with two stunning high definition LCD screens to display your content on. With limited stock on hand and available right now these exclusive displays come with all the same great features of our standard Freestanding Digital Posters such as:
Plug and Play – Simply load content onto a USB stick and insert into the display. Once the files have copied remove the USB stick and images and videos will play in a loop. Each screen has its own separate media player built in.
Commercial Grade Screens – Designed for commercial use and built with high quality components the screens can be used 24/7 and have a lifespan of 50,000 hours.
Complimentary Scheduling Software – Allowing you to take ownership of your display; choose what is displayed on your screens and when it appears.
Internal Locker – Should you need to run the screens from an external source, like a PC, you can do so by using the HDMI or VGA inputs. There is a space to fit a small PC inside the lockable compartment.
Power Timer – You can set daily, or weekly, On/Off times for your displays and completely remove the need for user interaction.
Network Upgrade – For a small charge you can also upgrade your screen to be networked, allowing you to remotely update your screen via LAN, WiFi or 3G.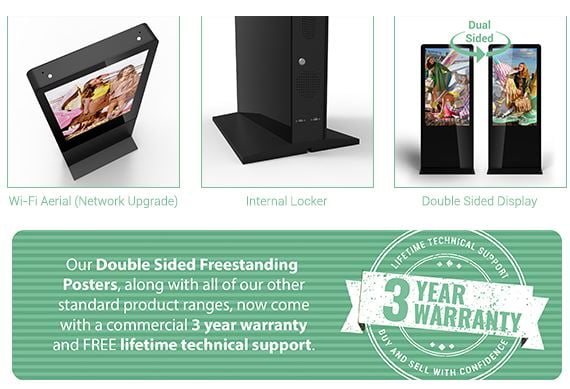 We have stock of the 50″ Double Sided Freestanding Digital Posters and they are available for immediate dispatch. Get in touch today to take advantage of these limited edition displays.
To check out more of our products for advertising, visit our Advertising Displays Page.
For more information please email info@crystal-display.com or call our main office on +44 (0) 1634 327 420