40″ to 82″ CDS Freestanding Digital Posters
Advantages CDS Freestanding Digital Posters:
UK stock often available for speed of supply
High reliability solid state media player technology
Scheduling software Free of Charge with each unit (where applicable)
Sleek modern designs
Cost effective solutions
Lockable compartment to protect mass storage
Suitable for 24/7 usage
Free eco-friendly power timer to reduce costs and energy
The brand new range of full High Definition Freestanding Digital Posters are ideal for grabbing the attention of your target audience.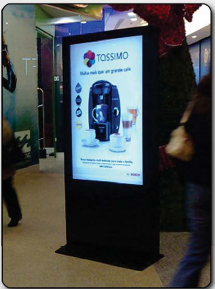 These dynamic Digital Posters are simple to use and achieve a powerful impact.
As well as being portable, they also have the ability to be in constant use and a wide viewing angle.
Sleek and elegant finish with no external buttons on show.
The built in Media Player allows for a simple plug and play method for content update making them extremely user friendly.
They also have a lockable compartment suitable for storing an external PC / Media Player used to directly display content.
The Digital Advertising Displays also come with simple scheduling software, which allow the user to set up playlists with images, music and video to play at different periods of the day.
The 40″ Freestanding Poster also has an integrated literature stand, using the visual impact to attract the audience and the printed material to take away with them.
These displays are  ideal to use in supermarkets, department stores, pharmacies, show rooms, banks, bars and restaurants as well as train / bus stations, travel agents, hospitals, schools, museums, cinemas and conference rooms.

If you need any additional information on the CDS Freestanding Digital Posters, please do not hesitate to contact us.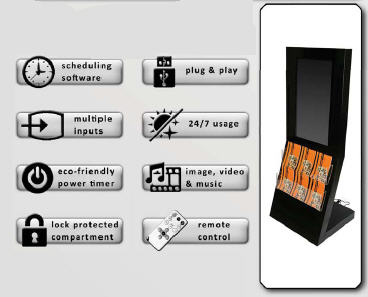 We also now have a variety of network based systems, see https://crystal-display.com/digital-signage/networked-systems/