CDS is pleased to announce the availability of its 4K 2K interface board with immediate effect and at a lot lower cost than you may think for such a state of the art development!
S plus is an advanced TFT-LCD Monitor Control Board. This design enables a full conventional CRT monitor and/or video replacement with a large size Active Matrix LCD module. It is suitable for video resolution up to UHD (4K x 2K) in all video modes. Designed to give state-of-the-art picture quality.
The board is available with all the relevant cables for your chosen display or as  a part of a whole kit including panel, interface board, cables / connectors and power supply – YOUR choice!
It should be noted that this can process UHD @60hz, unlike many boards currently available!
Features
• Analog RGB / HDMI / DVI / Display Port with Audio In & Speaker Out (10W x 2).
• Optional input combination, e.g., PC monitor only
• Full CRT multi-sync monitor compatibility
• Multi-sync capability up to UHD resolution @ 60Hz, compatible standard SVGA, XGA and
SXGA VESA timing.
• Expand DOS,VGA,SVGA,XGA, SXGA and FHD to full screen display
• Single control operated & transparent On-Screen-Display (hereafter 'OSD') user interface
• Full control of all relevant display and interface parameters via OSD
• VESA DDC 1/2B compliant
• Compatible with VESA DPMS power saving modes
• Form factor
• Operating temperature: 0 Degrees C to 50 Degrees C
• The IR ,UART & RS232 function (full remote control)integrated.
Special Features
• 8 Channels LVDS Transmitter, 8Lane Vx1, eDP
• Supports up to 4096 x 2160@60 panel interface
• Support 8-ch LVDS, 8lanes Vx1@3Gbps interface.
• Integrated HDMI1.4 compatible receiver, to support 300MHz
• Integrated DP1.2a compatible receiver, two of six ports are capable of HBR2
• DVI support 4K2K by dual link signal.
• RGB support up to FHD resolution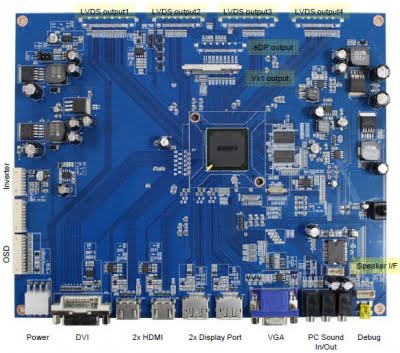 For more information including pricing and a full data sheet please email info@crystal-display.com or call our technical support team on +44 (0)1634 327 420.