It's now here! The PCAP Touch version of our 10" POS displays is now available and in stock. Check it out, with state of the art projected capacitive touch technology the new displays have 10 touch points that unleashes a whole new level of versatility and interactivity for your audience.
Unlike domestic tablets this small Touch Screen is commercial grade and more than capable of handling the rigours of constant use with its high quality components. These exciting new screens are ideal for shelf edge and POS displays.
The POS PCAP Touch Screen comes with an integrated Android Media Player that allows you to run Android compatible apps. You can however upgrade and use our brand new Touch CMS that allows you to create, deploy and touch your very own content. For a closer look at how this works take a look at our video below.
The Touch Screen has the following features:
PCAP Touch – State of the art Projected Capacitive interactive technology offers the most responsive and sensitive touch experience available and is designed for use in commercial applications.
POE – Power your screen via Ethernet port or with the main power cable provided.
RS-232 Control – Once your screen is connected via RS-232 you can control, scale and customise your display remotely over short and long distances.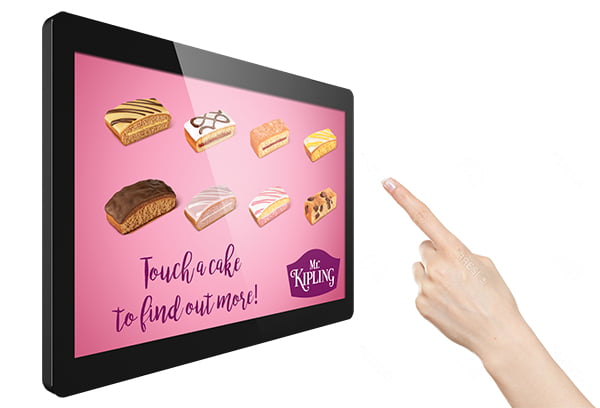 The new 10″POS PCAP Touch Screens are in stock now and ready for immediate dispatch. Get in touch today to take advantage of these incredible new displays.
For more information please email info@crystal-display.com or call our main office on +44 (0) 1634 327 420.