Shelf Edge Display solutions for Nivea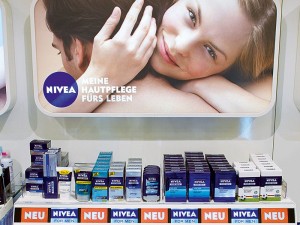 This solution has been adopted by Nivea in Germany to replace the standard passive shelf strips in some of the stores to create a powerful use of technology and the latest digital media marketing techniques. These multi displays can show still images, videos, or animate movement between or across multiple displays!
This 'Nivea system' is controlled over 3G radio network with product information, current campaigns and beauty care tips shown. This connected system can link the Nivea online world (website) and the classic point-of-sale via QR codes etc. creating a 'sticky' experience and helping enable brand loyalty.
This is just an example of the first steps towards a company can take towards a unique stand alone or networked digital POS strategy.
The Shelf Edge Display solutions are different, unique and helps brands stand out from the crowd!
This system is available as a plug and go solution in a custom metal housing or as individual components which the customer can build into their own solution or design their own housing so it is very flexible.
For more info. on Shelf Edge Display solutions or to see a demonstration video please go to: https://crystal-display.com/digital-signage/shelf-edge-displays/
Electronic shelf labels, are electronic display devices mainly placed on retail shelf-edges, to replace traditional paper price label. Each electronic shelf label can be connected to the store's computer database through wireless networks and displays the latest price information of the items accurately in real time. 
It is widely known that promotional messaging becomes much more effective the closer it is to the point of decision. With digital shelf edge displays, you now have the capability to target your messages within inches of the product itself. We provide everything you need to procure, install, manage and support your digital shelf edge display network. CDS works closely with clients to ensure that their displays are always on and can provide content design and production services to ensure your shelf-based promotions look as good as everything else in your marketing portfolio.