.
Multimedia Speech and interactivity are key requirements in the digital signage sector today. However, the areas of application of multi-touch monitors are varied and extend from education and culture as well as public facilities and offices on kiosks at the POI at railway stations, airports and trade fairs to interactive applications such as retail POS. Some terminals are exposed to the elements and extreme temperatures in outdoor use, others are in more demanding environments and must be protected from possible vandalism.The place of installation as well as the substantive concept and the usability significantly determine the selection of the different touch technologies.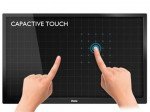 Particularly robust solutions, ideal for continuous use (24/ 7) in a public space or industrial use, offer multi-touch terminals (PCAP) working with the projective-capacitive touch technology. This technology offers an impressive touch performance in spite of their robustness. PCAP uses a sensor network of electrode pairs, which are integrated as a transparent coating in the glass surface and generate a field which acts outwardly. By a 'no pressure' touch, the electromagnetic field is affected between the electrodes and the touch position can be accurately calculated and passed on to the controller by changing the electrical capacity.
In addition, the technology also supports multi-touch functionality in contrast to conventional resistive touch monitors.The multi-touch feature detects one-dimensional gestures such as wiping and leaves or control gestures with multiple fingers like zooming by turning, spreading or closing the fingers.
Because the projective-capacitive touch technology is not controlled by pressure sensitivity, the surface of the screen must not be elastic. The front glass is such terminals with a hardness of 7H extremely robust and guarantees high durability and scratch resistance. The touch functionality of projective capacitive display remains unaffected, even if the cover glass on the screen is scratched or dirty.
For more information on our PCAP offerings please email info@crystal-display.com or click here PCAP
Article courtesy of Invidis Consulting and original can been seen here at Invidis –  © 2008 – 2014 Invidis consulting.
.