Networked Digital Advertising Displays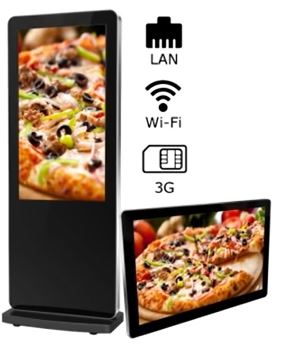 High quality networked Displays from CDS is a wide variety of our digital signage range are also available as networked solutions whereby our customers can update their content via WIFI, LAN and 3G.
Our users can pay for a subscription to our server to update content online.
With this simple yet effective software, you can update the displays remotely, overlay a promotional message on top of the content, or even power the screens on / off and adjust the volume etc.
This is great for roll out projects as you can update all your displays that may be in different areas in your network (unlimited) at the same time online.
List of Products that can be Networked; 
Why Use Our Solution?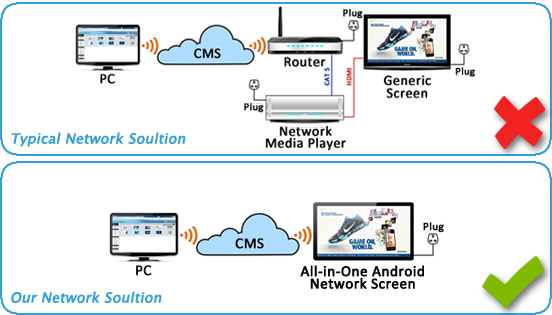 CDS High quality networked Displays screens have an integrated Android network media player; making installation a breeze. Typically network solutions require you to invest in additional networking hardware – complicating the installation process and the overall system. Hardware and software usually come from different sources which can result in confusion and conflict when identifying any potential faults. In contrast to this, any issues with our screens or Digital Signage software will be dealt with directly by us; one supplier, one solution.
Android Media Player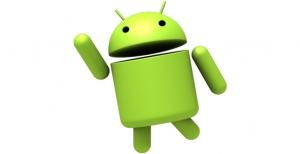 The integrated Android network media player provides a super fast possessing speed allowing for improved communication with the CMS. This means that you can update your screens quicker than ever before. It also allows you to display a live website; this can be anything from a live URL feed provided by a third party to your social media profile. The Android network media player also allows you to run your own software should you already have a CMS solution.
Tablet Like Look and style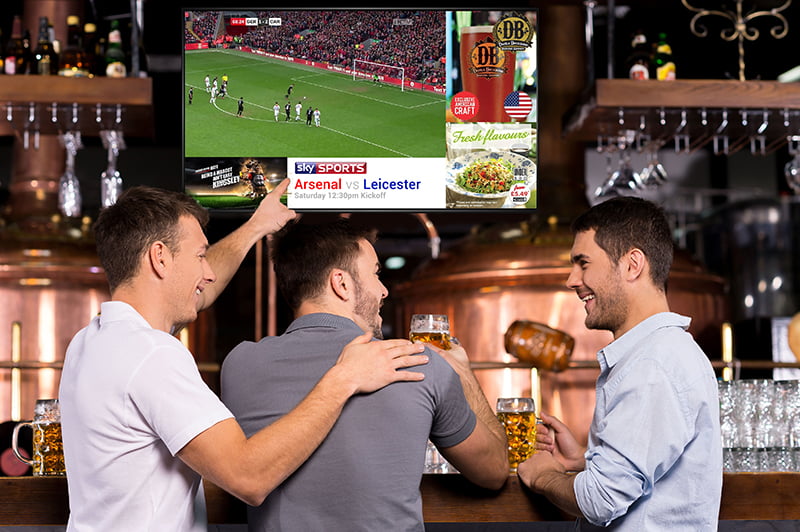 These high quality networked Displays are the most stylish and attractive commercial grade screens on the market. They are designed to be in constant use and their buttonless tempered glass face, rounded corners, super slim profile and aluminium surround all add to their eye-catching tablet-like aesthetics.
LED backlight technology means they use substantially less energy as well as increasing their lifespan. It also provides a sharper image, increased brightness, a more vibrant contrast ratio and allows for a super-slim profile.
Cloud Based Content Management System for CDS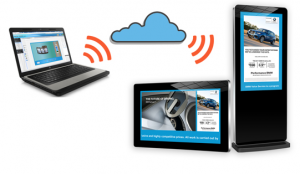 Updating our High quality networked Displays is extremely simple. Login to our cloud based CMS system and you can upload media, manage playlists, create your own templates and schedule content for whenever you want; giving you complete control over your network. No special software installation or dedicated PC is required, you can update your screens from anywhere in the world with an internet connection.
Connectivity

Connect your Wall-Mounted Slimline Network Screens to the internet wirelessly via Wi-Fi or via a Local Area Connection. If an internet connection is not available a 3G router can be incorporated into the screen, meaning that we can provide an integrated network solution for any location.
Custom Layouts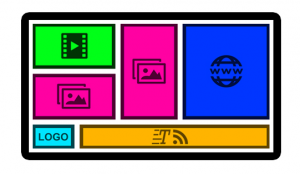 This feature allows you to design your own layout with different media zones for your images, video, webpage, time, date and also allows you to add a scrolling message or RSS feed. You can even give your layout a corporate "skin" to go around your media zones.
Schedule Playlists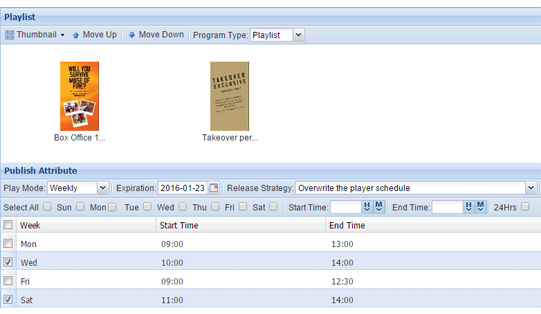 You can determine exactly what content is displayed and when. Create playlists that will automatically display your desired content at pre-determined times and dates. Whatever your scheduling requirements, our system can support them.
Remote Screen Functions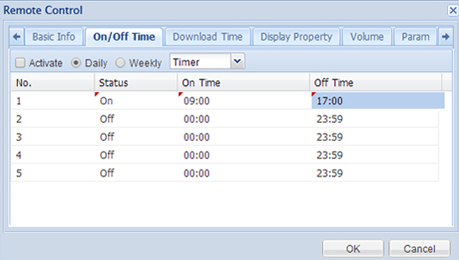 You can now access functions of your screens via the CMS, such as setting On/Off times for each of your screens and adjusting display settings like Brightness, Contrast and Colour; a truly centralised solution.
Manage Users  & Logs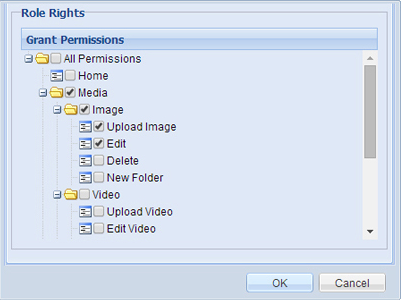 You may wish to limit some functions of the software or zones of the screens to specific users. For example you may wish to allow a receptionist to have access to the screen in the reception area but nothing else – our system allows full user rights control.
Records are kept from all screen and user activity so as you can monitor the usage and effectiveness of your content.
Take a look at the Networked Display Overview in the SlideShare below;
For more information on our High quality networked Displays, please contact us.