.
.
.
"The Best Sunlight Readable Displays on the Market"
.

Pixel Qi Corporation, the world's only non-captive LCD screen designer, has pioneered a new class of screens combining an e-paper look with color and video. These screens offer dramatically lower power consumption, full sunlight readability, and stunning text rendering for reading. The screens use standard LCD manufacturing equipment and materials with a full suite of new inventions to give users real benefits they can see. Pixel Qi, with offices in Silicon Valley, California and Taipei, Taiwan, is a spin-off of One Laptop per Child (OLPC) and was founded by OLPC's former CTO Mary Lou Jepsen. Pixel Qi believes that the future of computing is all about the screen and is dedicated to continuously delivering innovative screen technologies rapidly into high volume mass production. Why Pixel QI Displays?
| | |
| --- | --- |
| | High Colour and speed for multi-media and PC type applications |
| | Transmissive, transflexive and reflective display modes |
| | Built in LED driver circuit |
| | Built in UV protection filter |
| | Use anywhere – brilliant sunlight, offices, darkroom … |
| | Great power savings – Proven 5X power reduction of the screen |
| | 2 low power modes (transflective, reflective) |
| | Fully compatible with existing systems – plug-and-play replacement for standard LCD |
| | Advanced technology – completely proven in high volume |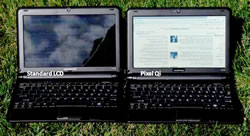 The outdoor image shows the Pixel QI in reflective mode. The standard TFT is unable to operate in high ambient conditions.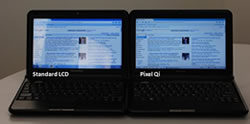 The second image shows the Pixel backlight turned down to save power. Even with the reduced backlight it looks as good as the standard LCD with full backlight.
How it works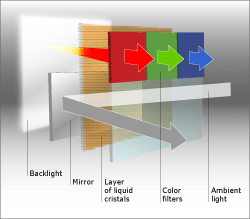 3Qi is a combination of a standard transmissive colour LCD and a very low power, high-resolution black-and-white display with 64 grey scales.
| | | |
| --- | --- | --- |
| Colour Part | | Black-and-White part |
| | | |
| The transmissive colour part of a 3Qi display is designed as known from an ordinary colour LCD.  individual pixel is divided into three cells, or subpixels with red, green and blue colour filter. A backlight  either CCFL or LED placed behind shines through the layer of liquid crystal and the colour filters whereas the orientation of the crystals controls the brightness of each colour. | | As soon as the backlight is switched off, the reflective black-and-white part uses the ambient light e.g. from a lamp or the sun which enters the display and is reflected by a mirror behind a large part of each pixel. On its way back the brightness of each subpixel is controlled by the liquid crystal similar to the colour mode. In order to reduce loss of brightness, the colour filters are dropped in this area. Therefore each subpixel becomes visible to the user as a black-and-white pixel with 64 grey-scales and the horizontal resolution is tripled. |
Product: Pixel 3Qi