Not just any standard touch display – our striking design sets this all-in-one solution apart from other Touch Screens on the market both in terms of functionality and aesthetics. Check out our new range of freestanding PCAP Touch Screen Kiosks with Dual OS. Available in sizes 43", 50″ and 55", the displays combine the best in PCAP Touch Screen technology with a stylish and secure kiosk. Designed for use in commercial applications the touch screen can even be used in portrait orientation for sizes 43" and 50".
All-in-One Touch Kiosk
Our new screen resembles a giant tablet with the edge to edge glass tempered front and aluminium bezel. So not only does it boast the best in touch screen technology it also looks great too with an ergonomic design and versatile functionality. There are also rear connections for Wi-Fi, LAN, USB and power.
Dual OS
With both Android and Windows operating systems installed on the integrated PC it cannot be beaten on flexibility. The screen has it all in one convenient package making it the most versatile commercial touch screen on the market.
Attach External Devices
The kiosk is an all-in-one solution with an integrated dual OS PC however, flexibility is key, so if you want to connect an external PC or media player there is a secure and discrete internal locker. You can also extend the connections from your PC to external ports on the rear of the kiosk.
10 Point PCAP Touch
State of the art Projected Capacitive technology offers the most responsive touch experience on the market while having sleek edge-to-edge glass. The screen features 10 touch points, allowing multiple users to interact with the screen.
IPS Panel
The Touch Screen Kiosk has a commercial grade IPS panel that accurately displays image quality and colour depth with a 178° ultra-wide viewing angle.
24/7 Usage
Our displays are designed to run 24/7 in constant use; unlike domestic tablets or screens due to the fact they are built with commercial grade panel and components. The panel also has a lifespan of over 70,000 hours of continuous use.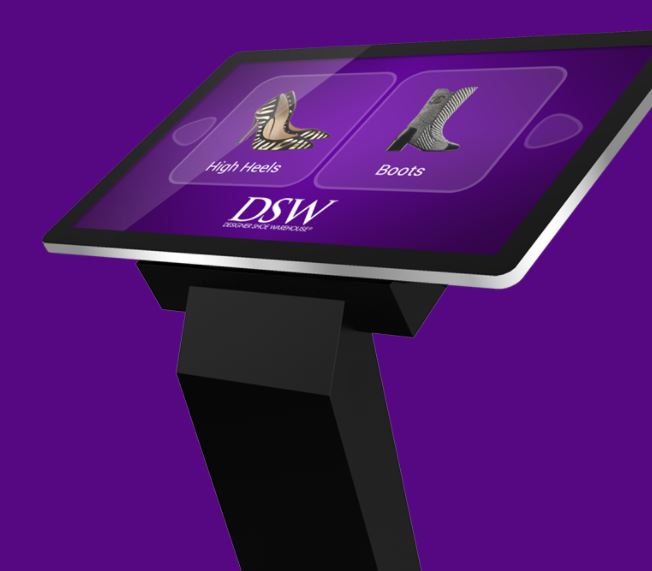 We have 43", 50" and 55" PCAP Touch Screen Kiosks with Dual OS in stock now and available for immediate dispatch. Get in touch today to take advantage of these unique interactive solutions.
Our PCAP Touch Screen Kiosks with Dual OS, along with all of our other standard product ranges, come with a commercial 3 year warranty and FREE lifetime technical support.
For pricing, spec sheets and more info on these impressive kiosks please contact us via email or call +44 (0) 1634 327420.
Check out our full range of Touch Tables
In need of just a PCAP touch monitor? Please visit https://crystal-display.com/products/aio-pcap-dual-os-touchscreen-computers/
For further touch options please visit https://crystal-display.com/category-monitors-touch-monitors/