.
Crystal Display Systems, the specialist displays company and value added reseller of transparent (Translucent) displays and showcases has compiled a very interesting new document which addresses many of the questions asked by its customers and resellers over the last 2 years.
Although not designed as a troubleshooting document it can significantly help interested parties in their design and implementation of this technology!
>
To get your copy simply click on the link below now: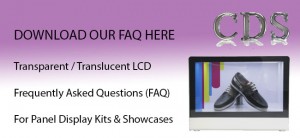 .
Should you require any other information please click here to contact us.
.
.