.
CDS will be showing a number of its Ultra Wide Stretched TFT LCD monitors at www.iseurope.org to demonstrate the brightness, viewing angle and image quality.
Some companies are only offering a very small range of say only 28″ and 38″ such as Advantech but Crystal Displays is offering a range from a small 6.2″ up to the huge 49.5″ stretched!
CDS also intends to show its 38″ Stretched with integrated  TOUCHSCREEN!
With a 28″ in 16:3 format and a model in 38 "(16:4.5) for example CDS is offering the widest range on the market with  efficient low power LED backlit solutions which can reduce power by up to 50%.
Hibrite sunlight readable 1000 cd options as standard also available, and all modules are FANLESS
The LCD displays are for digital signage applications including Exhibitions, Retail and many other uses!
https://crystal-display.com/components/displays/ultra-wide-stretched-displays/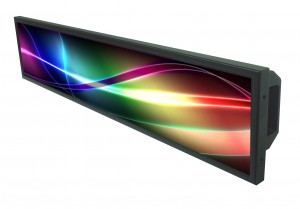 With viewing angles both horizontally and vertically of 176 ° these open up lots of opportunities for our customers and their applications.
Hibrite 1000cd versions available for high ambient conditions.
For more information and pricing please call our Main office on +44 (0) 1634 292 025 or email on info@crystal-display.com.