CDS Virtual industrial Displays Exhibition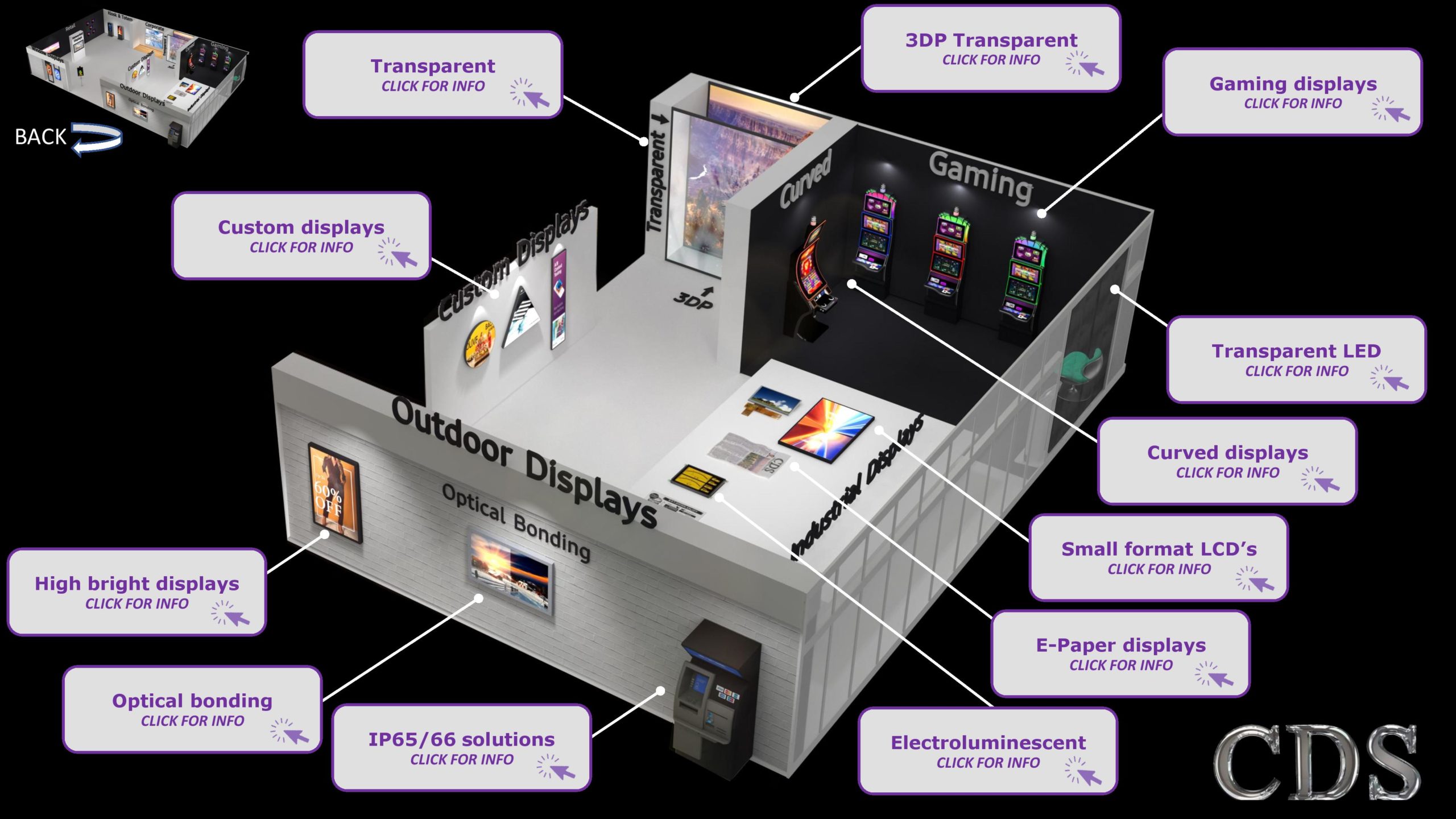 CDS Virtual industrial Displays Exhibition – CDS offer the widest range of displays Industrial Display Systems provide a wide range of reliable displays from 3.5″ to 86″ including LCD displays, touchscreen panels, outdoor displays and digital signage displays, as well as a series of industrial monitors including open frame monitors and panel mount monitors, which work perfectly with embedded boards and systems to fulfil various application needs. Our industrial Display Kit series provide 5.7-86″ industrial LCD panels, outdoor displays and touch screen panels which support sunlight readable and resistive touch. CDS also introduced its range curved monitors creating exciting opportunities for casino slot machines, entertainment kiosks, digital signage, control centres, and medical applications to name but a few CDS industrial monitors are built to withstand the most extreme environments. All of our displays are manufactured with high quality components to assure reliable long term operation and reliability. We offer the largest selection of LCD industrial monitors and touchscreens in the world with a wide range of industrial displays screen sizes up to 86″.   In Addition, we can include even more custom and OEM designs. 
Industrial LCD monitors offer many advantages over commercial-grade displays, most importantly they are more ruggedized including industrial displays featuring higher shock and vibration resistance.  Furthermore, use our wide operating temperature options in challenging climate conditions and robust enclosures are a must in most industrial settings. Additionally, we can back them with a full extended 3 year warranty. Likewise, industrial monitors are available longer than consumer and commercial-grade models but Retail models often discontinue within 6 to 18 months which can be critical. CDS delivers the latest technical innovations in displays and embedded computing backed by a market-leading service at every stage of the process. We provide a range of embedded and display solutions from panel PCs, computer systems and embedded computing, through to TFT LCD monitors, TFT modules and touchscreen technologies.  Optical bonding technology is also available where we inject an optical 'glue' into the space between a cover glass and the LCD panel to remove the air gap. CDS provides both Wet Bond and Dry Bond technologies to enhance the LCD readability and durability to enhance the customer experience.
High Brightness displays include in-house LED light bar design and optical films, our solution can boost brightness up to 3000 nits with a low-power backlight source saving about 20% less energy than competing products with the same level of brightness. CDS's Thermal Impedance Solution uses a heating film an in-house intelligent AD board to control the temperature of the TFT-LCD, so that the display works normally even under extreme environments. Designed with ruggedness and longevity in mind, our outdoor display solutions provide a reliable alternative to off the shelf monitors including being Built with our LCD optical enhancement solutions, wide temperature design, and robust touch input, our large range of sizes and configurations meets all demands in this area. Nowadays, displays are now very popular in transportation applications and CDS provides comprehensive display systems for transportation markets such as for airports, rail, airport, marine, and buses. Transportation displays usually require specific features such as wide view angles, high brightness, wide temperature and ruggedness to fit into these diverse environments and CDS offers EN50551 approved display solutions also. CDS also offers displays designed specifically for casino / gaming applications and our gaming display solutions provide a wide range of gaming monitors to meet the special requirements of applications. These display solutions feature widescreens, reliable touch screens and flexible mechanical designs that can be integrated with CDS's gaming platforms for a total gaming solution. As you can see CDS offers the widest range of displays and Industrial Display Systems. 
Welcome to the CDS Virtual industrial Displays Exhibition.
Click here to see our wide range of Retail displays and digital signage
Click here to go to our vast range of industrial displays