Super Slim Monitors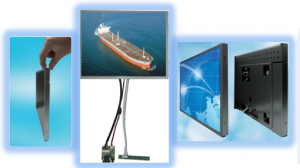 Crystal Display Systems Limited has launched its NEW Super Slim Industrial Monitor panels (The "Super Slims") which combine display, display controller and backlight inverter in a single enclosure so that they form an industrial open frame monitor offering great benefits to companies and users.
"DOWNLOAD" OUR NEW BROCHURE BY CLICKING HERE!
A few years ago Samsung produced the very successful range of SMART TFT monitor panels but decided to stop production as they focused on their large format TV panels etc.  This was a big loss to industrial manufacturers, Kiosk companies as well as many installers and resellers as they were very popular panels indeed. BUT NOW Crystal Displays has reintroduced such 'SMART' panels creating a market for super slim monitors in one component offering great benefits to the installers and users that they previously experienced with Samsung.
Users / Applications include:
Monitor manufacturers
Assembly houses
Ruggedized specialists
Kiosk manufacturers
Gaming / casino machines
Instrumentation companies
Small format digital signage
AV companies
Electronic catalogue resellers
Plus many others
The advantages include the following which give excellent cost of ownership:
Purchase one part not 5 (panel, interface card, inverter, data cable, inverter cable)!
Customer does not have to source individual components
Compact slim design profile – between only 18mm and 24mm thick!
Ease of integration / assembly
Less risk of failure during assembly
Reduce costs by speeding up assembly time
Components optimised and tested before shipping
A more rugged design as all components enclosed behind a metal enclosure
Why buy 5 components when you can buy 1 integrated tested solution?
Option Overview
•    Based on components from the following leading TFT manufacturers: AUO and LG
•    LED or CCFL backlight
•    Standard aspect ratios: 4:3, 5:4, 16:9, 16:10
•    Brightness up to 450cd with High brightness solution upgrades available upon request (conditions apply)
•    TN, ASV, MVA or IPS viewing angle technology
•    High contrast Transmissive Displays
•    Screen sizes: 12" – 24″
•    Available touch options include: resistive, capacitive, SAW, IR, Zytronic and pCaP
| Diagonal Size | Part Number | Resolution | Outer Dims (mm) | Display Area (mm) | Surface | Frame? | Manufacturer |
| --- | --- | --- | --- | --- | --- | --- | --- |
| 5.7" | LCD-057-TRN | 640 x 480 | 146.96 x 115.02 | 118.96 x 89.92 | Glare | No | CDS |
| 7" | LCD-070-TRN | 800 x 480 | 183.8 x 117.8 | 153.7 x 85.7 | Glare | No | CDS |
| 9.7" | LCD-097-TRN | 1024 x 768 | 227.7 x 194.35 | 197.5 x 148.2 | Glare | Yes | CDS |
| 15" | LCD-150-TRN | 1024 x 768 | 337.3 x 327.65 | 305.2 x 229.1 | Glare | Yes | CDS |
| 21.5" | LCD-215-TRN | 1920 x 1080 | 513.8 x 343.5 | 474.9 x 267.1 | Glare | Yes | CDS |
| 23" | LCD-230-TRN | 1920 x 1080 | 551.9 x 364 | 508.6 x 286 | Glare | Yes | CDS |
| 27" | LCD-270-TRN | 1920 x 1080 | 636.8 x 417.5 | 596.7 x 336 | Glare | Yes | CDS |
| 32" | LCD-320-TRN | 1920 x 1080 | 739.2 x 497 | 700.3 x 395.3 | Glare | Yes | CDS |
| 43" | LCD-430-TRN | 1920 x 1080 | 985.6 x 662.61 | 943.2 x 531.41 | Glare | Yes | CDS |
| 49" | LCD-490-TRN | 1920 x 1080 | 1124.4 x 693.9 | 1077 x 606.5 | Glare | Yes | CDS |
| 55" | LCD-550-TRN | 1920 x 1080 | 1264.4 x 819.1 | 1212.4 x 682.6 | Glare | Yes | CDS |
| 65" | LCD-650-TRN | 1920 x 1080 | 1485.4 x 952 | 1430.48 x 805.52 | Glare | Yes | CDS |
| 70" | LCD-700-TRN | 1920 x 1080 | 1601.6 x 1065.8 | 1549.44 x 871.56 | Glare | Yes | CDS |
| 75" | LCD-750-TRN | 3840 x 2160 (4K) | 1720 x 1000 | 1649.6 x 928 | Glare | Yes | CDS |
| 86" | LCD-860-TRN | 3840 x 2160 (4K) | 2013 x 1300 | 1897 x 1068 | Glare | Yes | CDS |





Built with industrial grade components for optimum reliability and competitively priced to meet your budget

For technical details or for a copy of our downloadable PDFand pricing please contact us