Our bezel free SAW Touch Monitors are perfect for retail and digital signage applications where touch interaction is required.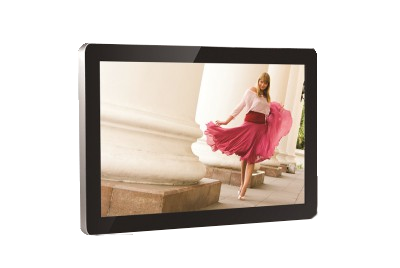 SAW Touchscreen
SAW (Surface Acoustic Wave)  is one of the leading touch technologies available on the market today.
Widely used in both industrial and retail applications its renowned for its high accuracy,high transmission and durability.
SAW touchscreens rely upon sound waves; thus, "sound wave reflectors" are placed along the edges of the glass. Two transducers are placed in two of the corners, and two receivers are mounted in the opposite corners. A sound wave travels parallel to the edges of the glass. When the sound wave encounters the reflectors, the wave is transmitted from the transducers to the receivers. A touch point is detected when a drop in the amplitude of the sound wave occurs.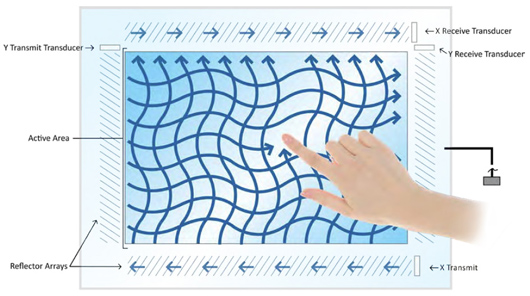 Tablet Style Design
With edge to edge cover glass, buttonless front face and aluminium bezels, these sleek displays look very similar to tablets in terms of design and aesthetics.
Professional Advertising LCD Display
We only use professional advertising displays inside our Digital Signage solutions, delivering optimum visual quality and reliability, suitable for 24 / 7 usage. Our Screens also utilize the latest in LED backlighting technology, enhancing the display whilst dramatically reducing the power consumption.
Optional PC
We can also integrate an embedded PC inside the monitor to give you an all in one solution.
The PC can be customised to suit your application, please contact us for more details.
Product Range
Our standard sizes are 10.1″, 15.6″, 18.5″, 21.5″, 32″ and 42″.
We can also integrate an embedded PC inside to give you an all in one solution.
For more information on our SAW Touch Monitors, please contact us.
In need of a touch monitor but this doesn't fit the bill? Check out our full range of touch monitors http://crystal-display.com/category-monitors-touch-monitors/
Or check out our open frame monitor range which an amazing range of touch and custom options.
We have a great Touchscreen Glossary and Comparison available, CLICK HERE to receive them