Mimo Monitors Touchscreen Technology Solutions
Mimo Monitors have been offering technology solutions to a wide range of businesses and consumers for many years. The monitors offer the smallest footprint and lowest cost of entry into touchscreen functionality. Innovative technology combines video, touch, and power into one USB connection. Simple, proven, and secure: One cable does it all. Connect as many as 14 touch enabled displays to one computing device, without upgrading your video card.
Our touch displays are supported under Windows, Mac, and Linux (including Raspberry Pi).
From interactive POP digital signage, to desktop and mounted control panels, to point of sale (POS) systems, hands-on kiosks, and portable applications, our unique single USB connection allows for a myriad of innovative applications. We design and manufacture touch devices for the desktop, automation, gaming, retail, hospitality, medical, industrial and corporate markets.
Advantages of CDS Mimo Monitors
easy to use; simply plug in only one USB cable
no need for extra hardware components
user friendly, low maintenance, low power consumption
lower costs as no add ons
feels very much like a traditional monitor whist providing "plug 'n' play" display simplicity
Expand-ability – add up to 6 more screens under standard windows
no additional graphics cards needed
simply install a driver onto your computer and you are ready to go
fully integrated monitors with sleek modern design with stand
raspberry Pi compatibility as well as Linux, Mac and Windows
Android support
no power supply needed like traditional touch displays
no interference unlike some VGA cables
very secure solution where security of information is critical
significant power savings
use 1 computer for multiple users
move programs / apps onto the extra display to free up your main screen
no need for technical or I.T person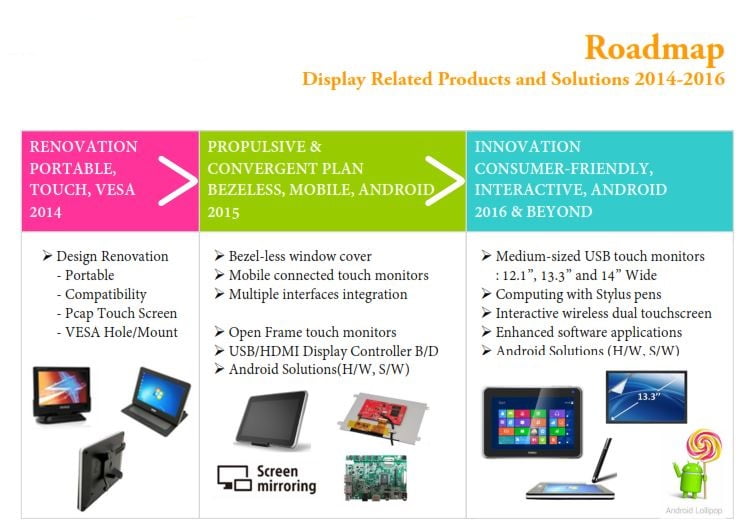 Low Cost of Entry
Mimo touch screen monitors are simple and affordable to operate. Our monitors' unique single USB connection capability allows you to set up all of your devices without any additional, expensive hardware or IT assistance.
We also give you the best value for your money. With CDS, you always get high quality products at affordable prices.
Upgrading your business to Mimo Monitors will allow you to
Increase productivity
Save money
And help the environment
When it comes to versatility, Mimo Monitors lead the way. Our products allow you to get video and touch capabilities just by using one USB connection, maximizing convenience and efficiency.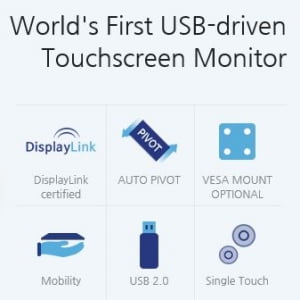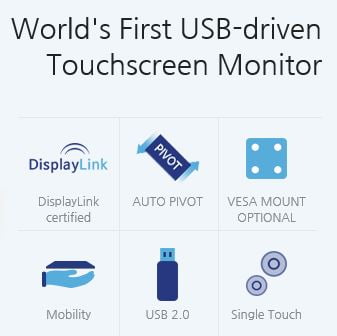 7″ Range
Click on the product images below for more information
| | |
| --- | --- |
|   | UM-7607″ USB input monitor without touchscreen |
|   | UM-760R7″ USB input monitor with resistive touchscreen |
|   | UM-760RF7 inch USB monitor with resistive touch + VESA mounting |
|   | UM-760C7 inch USB monitor with 'mobile sliding' projective capacitive touch |
|   | UM-760CF7 inch USB monitor with projected capacitive touch + VESA mounting |
|   | Mimo Touch 27 inch free-standing USB-driven touchscreen monitor with resistive touch |
|   | Mimo 2G7 inch USB monitor, "Mobile Slider Touchscreen" Model with resistive touch |
|   | UM-760C-OF7″ USB input Open Frame Monitor with Projective Capacitive touchscreen |
| | |
Versatility and Maximized Efficiency
Our monitors are easy to set up and even easier to use, without the need for messy wires, complicated hardware, or pricey IT technicians.
Mimo monitors work with multiple operating systems, including Windows, Mac, and even Linux, and are used within a wide variety of businesses, from fortune 500 companies Like Hertz and VeriFone, to smaller installations like submarines. They work seamlessly with desktops, mounted control panels, point of sales systems, or even POP digital signage, and can support a variety of different applications.
Some of the industries that make use of our products include the hospitality sector, the gaming industry, the medical sector and the automation industry.

Customer Support
At CDS, we will provide you with all the support that you need to carry out your daily business and personal activities using our touch screen monitors. We will work with you every step of the way to provide you with a personalized solution to your questions.
Why Choose CDS Mimo Monitors?
Not only are our products versatile, but they are also advanced and adaptable to the changing needs of the market. You can therefore be assured that your monitors will always perform superbly wherever you use them.
Custom displays are also a specialty. Don't see what you need above or below? Just contact us and we may be able to customize to your unique requirements. For more reasons please read more here. 
 10″ Range
Click on the product images below for more information
| | |
| --- | --- |
| | Magic Monster / UM-100010″ USB input monitor with resistive touchscreen1024 x 600 resolution |
|   | Magic Touch / UM-105010″ USB input monitor with PCAP touchscreen1024 x 600 resolutionWorld's first 10.1″ USB monitor with capacitive touchscreen |
|   | Magic Touch Deluxe / UM-1010A10″ USB input monitor with PCAP touchscreen with higher resolution 1366 x 7681024 x 600 resolutionWorld's first 10.1″ USB monitor with capacitive touchscreen |
|   | Magic Touch Deluxe 2 / UM-107010″ USB input monitor with PCAP touchscreen, higher resolution 1366 x 768 screen & additional extras |
|   | UM-1080C-OF10.1″ USB input Open Frame Projective Capacitive monitor with touchscreen |
|   | |
| | |