This semi rugged (IP32) TFT displays (32", 42" and 55") use a high-performance computer-engine to produce a powerful, flexible and resilient range of displays specifically designed for information and media presentation systems in indoor areas such as lounges and retail outlets etc. The smart metal cased design and polycarbonate protective front window enable these displays to be installed for long operating life, 24 hours a day, in staffed, public-facing environments.
Some of the features include:
Portrait or Landscape use with high-performance computer-engine.
Fanless 1GHz quad-core RISC processor with 1GB DRAM and 4GB solid state disk
FHD 1920 x 1080 screen with choice of screen sizes:
32" = 400cd
42" = 700cd
55" = 700cd (available upon request and with MOQ)
Low power & EMC certified design.
Modular design for ease of maintenance and reduced spares holdings.
RS485, TCP/IP, Wireless, RS232 and GPRS communications available.
Multiple protocols including: TDP, EDF, Delve & Lucid (SIRI, VDV453, XML options)
Remote display monitoring, script adjustment and firmware upgrade.
Semi-rugged IP32 rated metal housing provides a smart-looking appearance suitable for use in public and professional spaces.
3mm polycarbonate front window.
Life expectancy of over 5 years (24/7).
Smart & logo free for portrait or landscape use. Logo screen printing available upon request.
VESA mounting holes for simple mounting.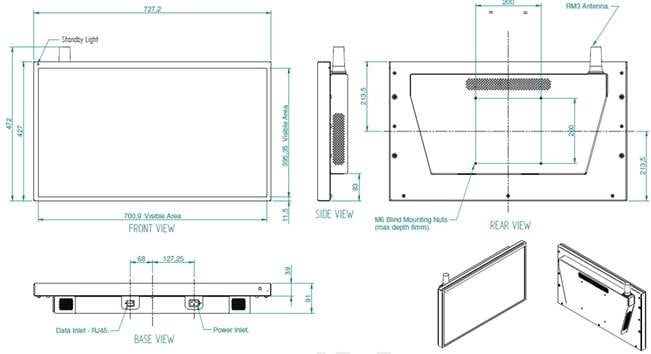 For more information please contact us via email info@crystal-display.com or call +44 (0) 1634 791600.