.
Crystal Display Systems has Launched its 19", 21.5" and 23" open frame industrial open frame monitors complete with UL approvals which help reduce design in cycles for our clients especially when they are selling products globally.  The fact that the UL certification has already been achieved reduces the time and cost to the manufacturing company and helps demonstrate the quality and reliability.
These are available with various interfaces including VGA, DVI and HDMI, plus other upon request.
For more information please contact Crystal Displays at +44 (0)1634 292 025 or email us at info@crystal-display.com.
.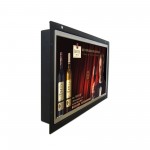 .