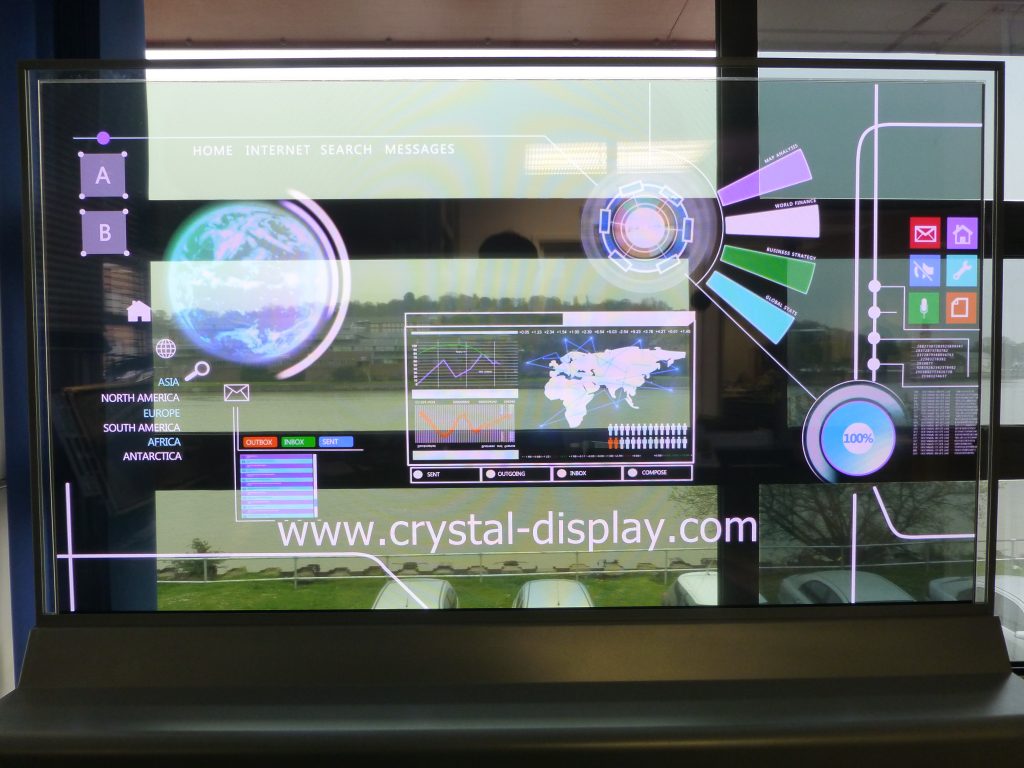 Crystal Display Systems Limited is known globally as the preeminent supplier of Translucent (Transparent) display solutions both in kit for and finished showcase boxes, but has now introduced the latest version of the highly engineered and improved Translucent OLED product.  Although the Transparent LCD is the best solution for many applications and lower in cost the OLED has some distinct advantages as highlighted below;
The CDS version is brand new for 2020!
Despite a number of Transparent OLED screens available the CDS solution is a well engineered thought through solution and not just a display with a base (which can put strain on the connections and affect reliability). The beauty of this emerging technology is it's quality and visual impact but also the CDS value added results in an optimised solution.  The CDS T-OLED solution is allowing customers to create amazing visual effects and that all elusive WOW factor.  This technology allows Brands and companies to majorly differentiate their brand from all those around them!
Amazing visuals and visual Impact!
Another of the major benefits of Transparent OLED Screen technology is its visual impact, which is undeniably creates that WOW FACTOR by delivering a stunning effect.   Delivering a stunning 55" Full HD picture with a high contrast ratio that is viewing angle free, a Transparent OLED Screen is ideal for futuristic or high tech environments and even for creating incredible effects for media productions for many applications. The visual effect also lends itself well to a range of premium or luxury environments such as high-end retail, Museums or hotels.  The visual effects from the Transparent OLED technology is ideal for promotional / digital signage applications as well as prop / visual effects, offering an amazing and impactful display solution that only Transparent OLED can achieve.
It emits its own light so no backlight needed!
The CDS transparent OLED Screen does not require an additional backlight to display an image like T-LCD that require an LED light at the back of the screen.  But the way that Transparent OLED Screens work, they do not need a backlight as the screen is totally self-lit itself. But this Translucent OLED screen is special  as the screen is transparent also, meaning the light source does not interfere with the picture.
Without the need for a lightbox or lighting unit behind like T-LCD, Transparent OLED Screens have an incredibly compact and slim depth of screen with a thin bezel that stands on a base unit, without the need for a back or an additional support. This is a merchandiser's dream product, allowing them to build the base unit into a display to show the screen protrude from their own unit, creating incredible compact displays and making this one of the main benefits of Translucent OLED Screen technology.
Interactive Touch versions are available from CDS!
When combined with a CDS touchscreen overlay we can create a 'Interactive Transparent OLED Screen' for you.  You will know the benefits of making this solution touch interactive to replace a keyboard or mouse etc. resulting in a modern looking and feeling touch interactive Display solution.  We can offer you the rugged Infra-Red (IR) touchscreen panels with small raised bezel or the latest PCAP 40 touch point Projected Capacitive flat screen touch.  The pure glass IR solution gives better transparency whereas PCAP does block some transparency.  The choice of touch will depend on the customer requirements and application, but CDS can advise, where required, appropriately.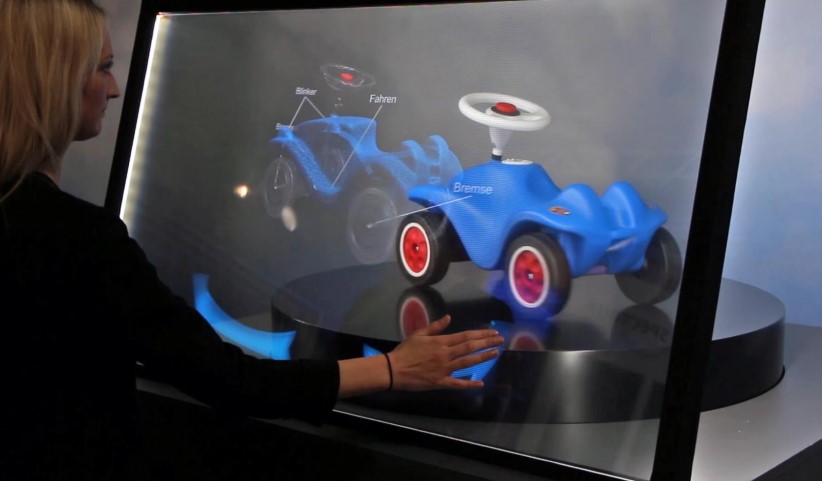 The Screen IS Transparent even when off!
Unlike Transparent LCD Screens, the screen of a Transparent OLED Display is completely see-through, even when switched off. A Transparent LCD Screen, which requires a backlight to display, switches to a blacked-out screen when there is no light source or power. This means that when the Transparent LCD unit is switched off, the image is not visible on the screen. But is should be highlighted (which many companies do not!) that although it is transparent when off it is not a purely clear view through the screen giving is a sort of grey / dark finish so anything behind the screen is slightly blurred / blocked.  So we would not recommend this as a selling point of the technology as it is at its best when the vibrant images are on the screen.  We can show you the product at our Headquarters near London or come to you with the solution for specific panels but please do not believe the screen is completely transparent and a great selling point when off as it is not practical from a wow factor point of view as viewers would be disappointed!
For more information please visit – https://crystal-display.com/products/cds-transparent-oled/