Is your CCFL backlit Display fading or no longer available? If so Crystal Displays could be ideal for you as we offer a full range of LED backlit displays.
High quality TFTs with LED backlights offer:
* Long backlight lifetime and reliability
* Superior Low temperature performance
* Environmentally compliant – LED do not contain Mercury!
* Better EMI (Electro Mechanical Interference) protection
* Better resistance against shock and vibration for industrial applications etc.
.
Brightness control also available for many panels.
.
For more information please go to www.crystal-display.com or call the main office on +44 (0) 1634 292 025.
.
.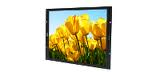 .
.