Embedded Solutions from Crystal Displays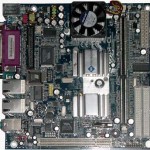 .
Here at Crystal Displays we have a wide range of embedded solutions to meet your needs.
A single board computer, also known as an SBC can be used to directly drive a TFT display via TTL / LVDS outputs on the board itself.
A direct drive solution is the most effective way of getting optimum performance out of your display.
.
Another main advantage is the flexibility gained from an embedded solution.
There are so many variables, from the size of the board, the processor speed, the inputs / outputs and even operating system.
This allows you to choose the perfect board designed for your application, whether it be a basic low cost solution right up to high speed processors with multiple outputs for more demanding applications.
We provide a range of different solutions from the World's leading manufacturers.
Alternatively, you can check out our full range of Industrial Panel PC's and Embedded Systems
If you would like to find out more about our embedded solutions please contact us.