Newly launched range of High Vibrance Android Advertising Displays with 700cd/m² and narrow bezel, ideal for retail store applications and more!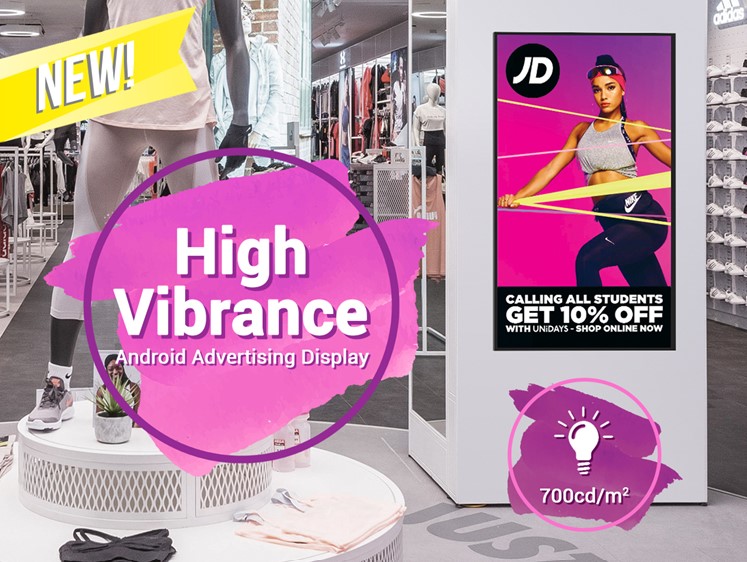 Vibrant colours and 700 nits brightness is the ideal pairing making this product a perfect attention-grabbing display in brightly lit spaces like retail stores and shopping centres. Available in 43″ and 55″ models.

Key Features & Benefits;
700cd/m² Brightness – At more than twice the brightness of a standard domestic screen, this eye-catching display will ensure your content really stands out from the crowd in brightly lit spaces.

Narrow Bezel

– With an ultra-thin bezel, there is nothing to distract from your content – which is especially important when placing multiple screens side by side.

IPS Panel

– Achieve striking, vibrant colours with an ultra-wide viewing angle in either landscape or portrait thanks to a high-quality commercial grade IPS panel.

Plug and Play 

– Upload content quickly and easily with Plug and Play. Simply insert a USB that contains your desired images/videos, wait for the content to copy over, and then remove the USB.
Optional Network Upgrade – For a small charge, you can choose to upgrade your display to be networked. This allows you to remotely update the content on your screen from anywhere in the world.
Resistant to Blackening – LCD panels exposed to direct sunlight suffer from temporary blackening defect. These displays use a special high brightness panel that can withstand surface temperatures up to 110°C with no blackening defect occurring.
Power Timer – The eco-friendly power timer allows you to assign daily or weekly on and off times for your screen meaning that it is only in use when it needs to be; improving your environmental efficiency.
Scrolling Text – You can display a "ticker tape" style scrolling text message along the bottom of the screen, to help you get your message across or help highlight any specific promotions or offers.
Multiple Inputs – Should you need to use the screen as a monitor you can connect it to an external source, like a PC or media player, using the HDMI input or the VGA and 3.5mm audio jack inputs.
Perfect for Retail
Retail stores and shopping centres are busy, brightly lit environments where competition for shoppers' attention is fierce. Ensure your content stands out with amazing colour definition, saturation, and brightness.
Budget-Friendly Window Display
For projects with a tighter budget, this product can be used as a budget-friendly yet highly effective window display. At 700cd/m², it is brighter than other commercial displays but without the price tag of an ultra-bright display.