The new line, called the "UM-760 series", consists of seven unique 7" monitors many with a sleek zero-bezel design in conjunction with upgraded product features to enhance product flexibility and provide cutting-edge solutions. The modern design of the new line is accompanied with universal USB compatibility, an upgraded resolution of 1024 x 600, capacitive touch, and an affordable and accessible price point.
Due to Mimo products' durability and flexibility, the monitors can be used both for at-home personal and business use, and are widely used in the retail, hospitality, education, and healthcare industries. The thin design (less than an inch thick) and ease-of-use makes the new monitor collection an ideal and flexible solution for use in video conferencing, gaming, entertainment, retail point-of-purchase, kiosks, digital signage, or as an additional display for any need.
The innovative UM-760 series offers a variety of touch screen product options, including both capacitive and resistive touch that can be purchased with or without VESA mounting. The vast variety of options is intended to provide ideal flexible solutions for both personal and business applications.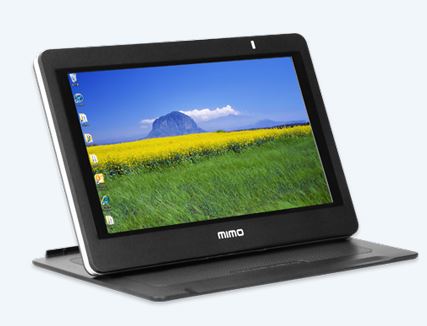 The seven products available in the UM-760 Series include:
7" USB Portable Slider 3G Display: Available in Capacitive, Resistive, and Non-Touch, this USB-driven compact monitor is foldable and designed for easy transport without the worry of scratches. When opened, the screen can display both in landscape and portrait orientation.
7" USB VESA 3G Display: An easy and convenient way to add a VESA mounting system to any computer or interface, this model is also available in Capacitive, and Resistive, or Non-Touch via special order
In addition, UM-760C-OF is a Capacitive model in a rear mount open frame, for when the touch panel is seamlessly integrated into kiosks and other 3rd party equipment.
Product specifications across all models include:
Screen 7" diagonal
1024×600 Resolution
Pixel Pitch: 0.15(H) x .15V
Display colors: 16.7 M
Surface treatment: Hard coating (3H), anti-glare
Contrast ratio: 700:1
Luminance, White: 250 CD/m2
Utilizes Displaylink for power, touch and video over single USB connection
For more information on our products please contact us via email  or simply call our UK office on +44(0)1634 327420