CDS has launched its 15″ XGA TFT Intel® Core™ i family/Pentium®/ Celeron® Slim Industrial Touch Panel Computer.
● 15″ XGA TFT LCD display
● LGA1155 socket 3rd & 2nd Generation Intel® Core™ i7/i5/i3, Celeron® & Pentium® processor
● Intel® Q77 chipset
● Easy installation: a less screw design for user's convenience
● 4 USB 3.0, 2 USB 2.0 and 4 COM ports
● Built-in speakers and optional Wi-Fi 802.11 b/g/n module
● Robust aluminium with IP65 compliant front bezel design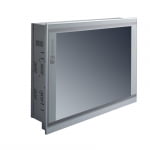 The P1157S-871 is a multimedia 15″ touch panel PC for kiosk application. It has a fashionable mechanism design and industrial-grade material front bezel which can avoid damage from chemical corrosion. To meet the demands of multimedia application, the P1157S-871 is powered by a high performance LGA1155 socket 3rd & 2nd Generation Intel® Core™ i7/i5/i3, Pentium® & Celeron® processors with the Intel® Q77 Express
chipset. It features four COM ports, two Gigabit Ethernet and up to 16 GB memory of dual-channel DDR3 that delivers high computing capability for high performance demanding applications. The industrial panel PC is most suitable for kiosk, factory and automation.
To check out the full range of industrial panel PCs please visit our Industrial Panel PCs webpage. For more information including pricing and a data sheet please email info@crystal-display.com or call our main office on +44 (0) 1634 327 420.