CDS are pleased to announce our new range of freestanding slimline totems
Simple Usage:
These displays have an integrated HD media player that will accept USB memory sticks to 
the media files. Simply upload your pictures and videos onto the USB Memory Stick from computer/laptop, insert USB into the screen to upload the contents from USB onto the screen, the screen automatically starts playing the pictures, videos and music that are loaded onto the internal memory card. You can set the play order and interval time of each slide and start and stop times, giving you complete control over every aspect of your digital presentation.
Scrolling Text:
You can display a scrolling text message along the bottom of the screen to compliment your content and help get your message across.
Free Scheduling Software:
The screens come with free scheduling software to allow you to display scrolling text as well as different content at different times of the day. For example, a restaurant can create 4 schedules:
1. 8:00am – 10:30am to display breakfast menu
2. 10:30am – 12:00pm to display special offers
3. 12:00pm – 4:00pm to display lunch menu
4. 4:00pm – 6:00pm to display dinner menu
And so on…
Power Timer:
You can also set the screen's on/off time, with options to have the same settings for 7 days or different every day. This can allow you to turn the display off during the night or at other times.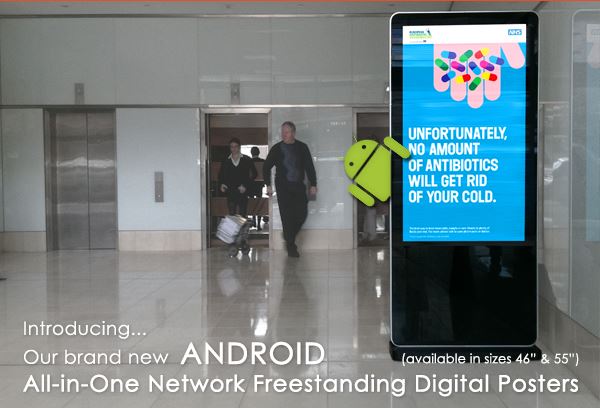 Multiple Inputs:
The Slimline Freestanding Digital Posters have VGA/HDMI inputs; these can be connected to your own PC or Network Media player which can be discreetly locked away inside the unit. There is also a power input inside the unit so you can power you external device.
Designed for Public Spaces:
Their buttonless tempered glass face, rounded corners, super slim profile and aluminium surround all add to their eye-catching tablet like aesthetics. The displays are fitted with commercial grade panels providing them with a wide viewing angle, improved colour, contrast and brightness as well as the ability to be used 24 hours a day. Their internal media player supports a broad range of media file types. They also feature a LAN connection for convenient networking. The Slimline Freestanding Digital Posters are designed to be a complete contemporary digital signage solution.
Optional Network Upgrade:
For a small charge you can also upgrade your screen to be networked, allowing you to remotely update your screen via LAN, WiFi or 3G.
For more information on these products please visit our Slimline Displays webpage 
Alternatively for more info please email us or call us at our UK office on +44(0)1634 327420
[/fusion_builder_column][/fusion_builder_row][/fusion_builder_container]