The new TPC-DCM series designs with TAICENN unique Modular 2.0 concept, uses the TAICENN TM-PC front touch display panel, true flat multi-point projective capacitive touch screen, IP65 rated front display panel for water-proof and dust-proof, selectable Intel Baytrail, Apollo lake, Skylake/ Kabylake Core processors, highly cost competitive in the market, and compact & fanless design.
Regarding to its IO ports and expansion, TPC-DCM series owns 2x Serial ports (Support 1* RS485), 4x USB ports, 2x Intel GLAN ports, 1x HDMI display port, can support mSATA or 2.5″ SATA SSD/HDD. The default 1x Mini-PCIe slot can be used for various wireless expansion, such as 3G/4G/LTE, or Wi-FI / BT. This touch panel PC support Panel mount and VESA mount, ensure it can be installed into industrial onsite application simply, very suitable for SCADA/Fieldbus, processing monitoring, MES system…etc.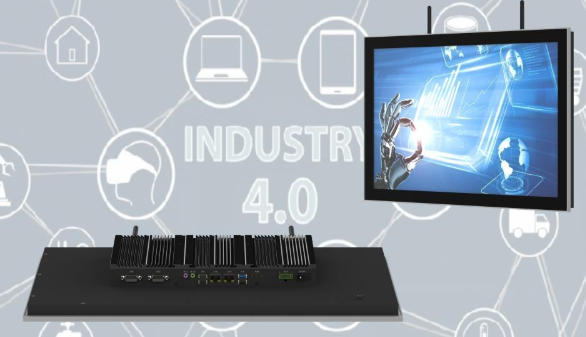 Multi-level computing processor
TPC-DCM industrial Panel PC is optional to adapt with selectable Intel Baytrail J1900/J1800, Apollo lake Celeron J3455/J3355, 6th or 7th Core i3/i5/i7 processors, suitable for different level and types industrial automation applications, providing lots of choices for your CPU options.
Optimized IO ports improve users' experience
Based on selectable CPU processors, TPC-DCM industrial PPC designs with dual network ports with Intel I211AT ethernet chip, providing long-term reliable data communication. It can support max. 8GB DDR3 or 16GB DDR4L memory for the system, 2x COM ports, 4x USB ports, helpful to use in industrial automation applications.
Cost-effective solution & products
TPC-DCM series panel PC use optimized design, multi-level CPU options. Compared to the similar product in the market, this series have super price advantage. This industrial Panel PC series uses the same TM-PC series display panel, improve our delivery ability and reduce our inventory pressure. Now TPC-DCM are available with dimension from 15.0 to 24.0 inches. The same display panel and cut-out dimension, no need to change technical dimension anymore, ensure the longest supply period and support in future, to provide reliable hardware support in Industrial automation and industrial IoT market.
Main features:
– Various dimensions: 15.0, 15.6, 17.0, 18.5, 19.0, 21.5 and 24.0;
– high quality LCD display with LED backlit;
– Multi-level CPU options, including Intel Baytrail, Apollo lake, Skylake, Kabylake;
– Memory max. support up to 8GB or 16GB (DDR4L);
– Low power, compact & fanless design;
– True flat, zero bezel front panel, front IP65 protection;
– Self-developed Anti-finger print industrial capacitive touch screen;
– Panel mount & VESA mount;
– Rich IO ports: 2* GLAN, 4* USB, 2* RS232, 1* HDMI, optional with 2* 2w Speaker;
– Optional wireless with 3G/4G/LTE, Wi-fi/Bluetooth.
For an excellent overview and more details of our Panel PC product range please go to: https://crystal-display.com/products/industrial-panel-pcs/
For more information please contact the CDS team via email info@crystal-display.com or call our main office on +44 (0) 1634 327 420