After nearly 3 years as a market leading product the classic 46" Digital Advertising Display is being discontinued and replaced with the superior 46" Slimline Digital Advertising Display, which have the following improvements:
Improved Playlist Editor Software: The new model supports scrolling text to compliment your content and get your message across more effectively.
Tablet-like Aesthetics: Almost half the thickness of its predecessor and also features rounded corners, glass front and aluminum frame give the new range of screens greatly improved aesthetics.
Improved Internal HD Media Player: The new displays support a wider range of image and video file formats as well as the ability to transition between videos seamlessly.
Internal Memory: This has been doubled to 4GB.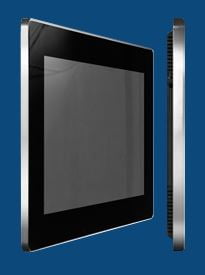 As well as offering all of these improvements we have also improved the design of the flush fit wall mount which is also included as standard. Without a doubt these are the most attractive and rugged displays on the market.
We will no longer have any stock of the classic 46" Digital Advertising Display however the 46" Slimline Digital Advertising Displays are in stock now and available for immediate dispatch.
For more information on our slimline advertising display products please contact us via email  or simply call our UK office on +44(0)1634 327420