.
GeneralTouch Technology Co., Ltd., a world leading touch products and solutions provider with over 12 years of continuous innovation in the touch field, announced the birth of a newly patented multi-touch technology – Projected Infra red Touch (PIT). Paunched in the UK and Europe by Crystal Display Technologies.
PIT has garnered most of the advantages from other touch technologies, purged many inbuilt limitations and will virtually become an all-encompassing solution that will empower the touch industry to a higher level. "This is an amazing touch technology and we are really looking forward to using it in our projects," the Korean, Japanese, German, UK and Spanish partners claimed after having evaluated a PIT prototype.
PIT can support 2, 5, 10 and up to 32 points simultaneous touches with a fast response time of no more than 10ms in the case of a 10-point multi-touch screen. Its high resolution and precision have minimized the distance between touch points to 3mm in PIT multi-touch. What is more phenomenal and mind-blowing is that PIT recognizes different nib shapes of stylus. It opens a whole new world of multi-touch functions and offers users unlimited possibilities in designing and realizing unique applications.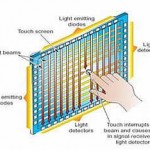 The PIT touchscreen is a piece of pure glass, with the anti-glare or anti-vandal features as added options. Its construction is highly sealable and is effective against dust and liquid invasion. It continues to work even with scratches on its screen surface. Moreover, the grounding design of PIT touch screens is much simpler in electromagnetic interference (EMI) shielding when it is compared with PCAP touch screens. Needless to say, PIT is well-suited for both indoor and outdoor applications.
A PIT touchscreen subtly features a 2mm minuscule edge-bezel which is made up of the protruding base of its intrinsic crystal prism to achieve near true-flat design. This fine edge-bezel appearance makes any single-touch or multi-touch system aesthetically appealing and broadens its functionality. Unlike traditional matrix infrared and optical touch screens with their inherent border frame, PIT does not have such an obstruction and touchscreen points at extreme edges and corners can be easily activated. This vital feature enables PIT touch screens to operate in Windows 8, which requires particular touch gestures such as swiping from the screen edge to the display area in opening, closing or switching applications. More importantly, the diminutive edge-bezel also spells ease of integration and maintenance.
PIT comes in sizes ranging from 10.4″ to 55″ and is suitable for All-in-one (AIO) PC, interactive digital signage (IDS), self-service kiosk, gaming and amusement equipment, and more. As the whole surface area of the PIT touchscreen is touch ready, the border around the view area (VA) can accommodate Menu, Home, Back operation icons or whatever shortcuts that may provide ease of operation for the end-users. Above all, PIT has a remarkably high level of customization in facilitating differentiation of product design without incurring high re-engineering costs as compared with some other touch technologies such as PCAP (Projected Capacitive Technology).
When dragging or sliding or writing with fingers on a PIT touchscreen, users will feel it is silky and smooth. Moreover, the interactive experience is further heightened as users are at liberty to choose their favourite stylus, be it a finger, a pencil, a glove or any pointed tip, because PIT will respond to any kind of stylus. With a sturdy, waterproof, dustproof structure and coupled with low maintenance, PIT will certainly delight users everywhere.
For a multi-touch technology with such rich options, the product architecture of PIT is rather uncomplicated and its production process is undemanding. Hence, mass production does not require fancy engineering, and customization involving variation of sizes and aspect ratios is rather straightforward. In addition, PIT offers users greater added value in terms of massive cost savings, high product yield and a touch product that delivers superior functionality and performance.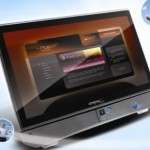 The  Touch screen Market
The use of touch screens is evident from its inclusion in myriads of electronic gadgets and devices. Market research analyses have projected a rapid annual growth rate with the global touch market size reaching $15 billion by 2015. And with the recent release of Windows 8, demand for touch screens as a standard component of the Personal Computer (PC) will rise even further. PIT complements well with the AIO (All In One) PC. PC manufacturers will no longer be constrained by particular drawbacks in the other touch technologies in terms of cost, viability, mechanics, aesthetics, functionality, and more. With PIT as a catalyst, PC-Touch integration will be accelerated and so will the growth rate of the global touch market.
.
For more information please email info@crystal-display.com or call our main office on +44 (0)1634 292 025.
.