.
Leveraging its 20 years of experience supporting Display projects Crystal Display's new 46-inch freestanding super slim advertising Display totem offers a simple and effective way to display digital signage messages.
"The main unit is ONLY 8cm in Depth!"
We are offering a reliable, eye-catching design that is also expandable and customizable. It started with a base structure that is solid and sleek. With an integrated 24/7-rated LCD panel, boards, cable management and wires with that famous iPad looking glass to glass finish.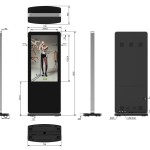 Other features include:
* Low power LED backlight 1080P LCD;
* Reliable design with built-in ventilation system;
* Edge-to-edge front glass with i-device look and feel;
optional multitouch capable version will follow soon.
* And solid and sleek glass with aluminium design.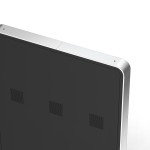 .
Brightness = 500cd
Contrast = 4000:1 !
Viewing angles = ultra wide 178 Degrees
.
Front and back images
For more information and full specifications please email us on info@crystal-display.com or call our main office on +44 (0) 1634 292 025.
.