We currently have some excess stock so there is a great opportunity to secure this great 40″ advertising display equipped with literature stand as seen below for ONLY £1399.  We know of people paying upwards of £4,000 for an equivalent display solution.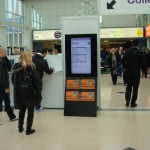 The 40″ Freestanding Digital Poster with Literature Stand is designed to be a complete digital signage solution. Thanks to their built in HD media player they require no additional hardware such as PCs, DVD players, excess cables or software; you simply plug and play.
They also have the exceptional feature of full HD 1080p video display.
It has an integrated literature stand, providing a great balance between "the now" and "the later" with an eye-catching and immediate visual impact combined with printed material that can be taken away.
As well as being portable, they also have the ability to be in constant use and a wide viewing angle. Tempered glass styling and no buttons or controls on show provide a sleek elegance.
The lockable compartment is suitable for concealing an external media player or small PC that can be used to directly display content. As well as functioning as a comprehensive user-friendly standalone solution our Freestanding Digital Posters can also be networked for remote updates.
An eco-friendly power timer allows the user to set what time the display turns on and off during a week. This means that your overall power consumption will be conveniently reduced as the display will not be running when it is not required.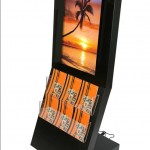 Applications:
• Supermarkets
• Hospitals
• Department stores
• Museums
• Showrooms
• Exhibition displays
• Shopping centres
• Cinemas
• Internal Communications
• Conference halls
• Gyms
• Hotel lobbies
• Train/bus stations
• Restaurants
• Travel agents

For more information or to place an order please email:

info@crystal-display.com

Or call +44 (0)1634 292 025

.