Crystal Display Systems (CDS) has increased its range of small format "Bar Type", "Letterbox" or "Stretch" style TFT LCD panels which means it now offers the widest range of this style of displays globally including touchscreen and extended temperature options!
These wide format colour LCDs are becoming increasingly popular in all areas of our lives from digital car dashboards to digital signage. With many of the current crop of monochrome STN LCD's favouring this letterbox format the transition to a colour display can sometimes be a big issue for both the hardware and software designers.  With our letterbox format colour displays in many instances the same housing can now be considered for the colour upgrade saving designers and engineers valuable time and money.
CDS has many different size options within this display range with new models being released. Sizes start from a 2.5:1 aspect ratio, 2.9", 320 x 120 resolution display through to an 8:3 aspect ratio, 12.3", 1920 x 720 resolution IPS technology panel. The panel sizes include the following:
9" 480 x 128;
2" 240 x 432;
6" 800 x 320;
8" 800 x 320;
5" 800 x 320;
2" 1280 x 384;
9" 1280 x 400;
8" size options:

1 with a resolution of 1920 x 480 and an MIPI interface.
3 with a 1280 x 320 resolution with either an MIPI or LVDS interface.

2" 1280×480;
2" 1920×720;
9" 1920×480.
Larger sizes also available up to an amazing 86"!  Please ask for more information.
The focus across the whole range has been to offer a high specification panel suitable for the industrial product market also incorporating the highly demanding automotive and aerospace industries.  All the panels would be considered as high brightness solutions with brightness's of between 500 cd/m² and 1000 cd/m² apart from the 2.9" and 4.2" sizes that whilst do not offer direct sunlight viewing properties still offer a high luminance of 300 cd/m² and 280 cd/m² respectively.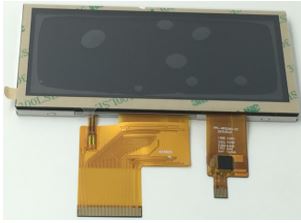 Extended temperature range (up to automotive / military specification)
The larger panels within the range, (9.2" and upwards) are also equipped with a wide operating temperature of -30°C ~ +85°C making them suitable for a host of applications in hostile and highly demanding environments.
Five of the panels within the range, the 7.9", 9.2", 10.2", 11.9" and 12.3" utilize IPS (In-plane switching) technology which produces an exceptionally wide viewing angle on all axis (170° left to right and 170° top to bottom).  Another benefit of the IPS Technology is that there is no pre-set 6 or 12 o'clock viewing direction allowing for greater flexibility in mounting the panels in both portrait and landscape orientation.
Touch screen options
Touch options are available on all sizes with the smaller (2.9", 3.9", 4.2", 4.6" & 5.8") sizes having a 4-wire resistive overlay, although there are plans to introduce capacitive touch sensors for these sizes over the coming months.
The larger panels (6.5", 7.2", 7.9", 8.8", 9.2", 10.2", 11.9" and 12.3") all have the latest projected capacitive touch sensor with cover lens.
If you are looking for a plug and play monitor kit type solution both the 12.3" and 8.8" sizes can also be supplied with a compact HDMI driver board, LED backlight driver and OSD keyboard including all internal cabling making a cost effective display solution which can be quickly and easily integrated into your bespoke housing.
Many aspects of the range will also be expanded so please sign up for our Newsletter so we can keep you updated on any developments and product releases.
To see the full range please visit our Small Format TFT Range webapge
For more information please email info@crystal-display.com or to discuss your requirement please call our main office on +44 (0) 1634 327 420.