.
Crystal Displays (CDS) is offering a Limited Special offer (whilst stocks last) on their CV-100-V1 10″ transparent showcase at only $950 / £625 / Euros 820*.
The sleek looking curved aluminium finish with simple magnetic fitting rear door and easily accessible connectors. Screen is a high resolution 1024 x 768 (like iPad 1) with excellent lighting to increase the contrast and therefore the image quality.
For those of you that have not seen the Transparent technology before you will be amazed and please visit our YouTube Account to show some video examples. Or simply click this example ( Transparent Video ) which is exactly the 10″ showcase you would receive.
Basically, you can show active content (videos / images etc.) on a screen which will also allow you to show the product in the box also as white becomes transparent!  It doesn't even have to be for business use it could be for someone's medal / cup with a video of them or their favourite team running on the screen!  As black blocks the light you can make products appear and disappear! Some people call it the "See Through TV" but the options are vast.
Also available in Black as seen below.
Content is easily uploaded to the showcase via a USB drive (no special software needed) which is updated to the internal memory which means you can simply remove the USB drive after the upload and Voila you WOW those friends, family, employees and clients!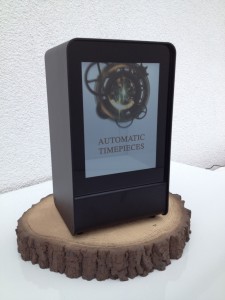 Can double up as a great attention grabber at Exhibitions and in your reception but also as a portable unit to show potential and current clients this great technology to help secure sales for your organisations!
How do you promote your latest or best product? Could this be something new to achieve that?
This is a limited offer so if you are interested please contact us immediately or email through your order now to secure you unit to avoid disappointment.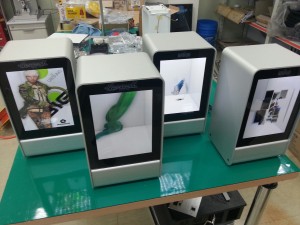 Branding such as a specific colour or logo on the showcases is also possible.
Thank You and we look forward to hearing from you to collect your CV100V1 and enjoy.
* Please note as we sell these all over the world the price is an Ex Works, CDS Rochester, UK as we cannot know the exact shipping charge to every location around the globe but costs are very reasonable and we will send in custom packaging suitable for International shipping. The price is excellent as we know companies that have sold similar units for thousands of Dollars!
www.crystal-display.com
.