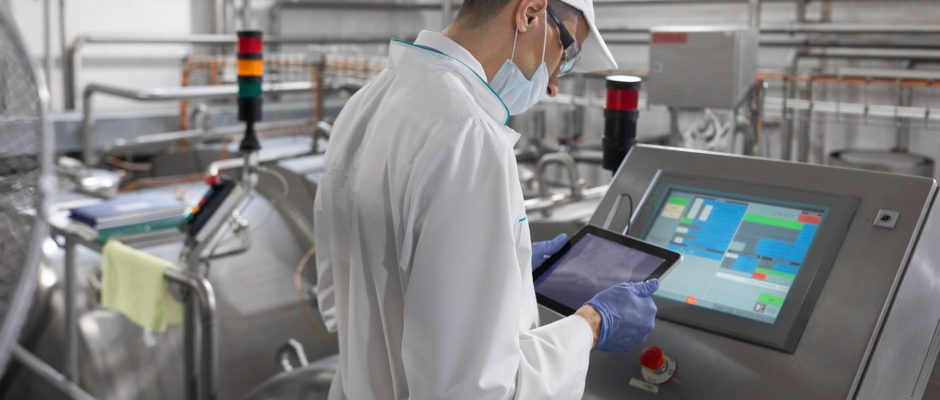 Stainless Steel Touchscreen PC solutions from Crystal Display Systems is specifically designed to meet the demands of industrial environments such as process control, outdoor applications, food & drink processing and packaging, medical facilities, and transportation. The fully stainless enclosure is waterproof and dust-proof to an IP66 rating, ensuring protection against moisture and dust particles. The M12 waterproof connectors and IP66K rated cables further enhance protection against the ingress of moisture and dust particles, creating excellent and reliable industrial sealed solutions
The PC is equipped with a "True Flat" PCAP touch, ensuring that there are no ridges or lips that can collect dirt or moisture, potentially affecting touch performance or obscuring the display. The IP66 rating allows for the complete assembly to be washed down with water containing disinfectant or cleaning solution, without fear of damaging the equipment. The IP69K rating also allows the assembly to be submerged in water.
Stainless Steel Touchscreen PC is available in a number of sizes including 10.4″, 15″, 17″, 19″, and 21.5″, all utilizing IPS TFT panels for ultra-wide viewing angles and an "All View" viewing angle that allows the PC to be mounted in both landscape and portrait orientations. The PC is also available in ultra-high brightness full sunlight viewing versions.
For more information on our Stainless Steel Touchscreen Panel PCs please go to: https://crystal-display.com/products/waterproof-ip66/
or
the following webpage: https://crystal-display.com/introducing-our-newly-updated-range-of-waterproof-ip66-monitors/
Key Features of our IP66-Range includes
All In One Solution – Ultra Thin 91.5mm
Sunlight Readable High Brightness LED Backlight
Fanless design
True IP66 sealed – front and rear, no fans, no vents, no filters
Galvanised Steel + zinc plated + fine grain powder triple coating
Tempered Glass with AR coating
Transmissivity > 93%, Reflectivity < 2%
Operating Temperature -20°C to +50°C
Operating Humidity 5% to 98%
Operating Altitude (m) 2000
Similar solutions in market are only IP56
WIFI standard (4G Optional)
#industrialMonitors #embeddedsolutions #IP65 #IP66 #IP69