State-of-the-art industrial IP66 & IP67 monitor electronics for high volume markets and for industrial users. Manufactured to ensure they will handle the high intensity and rigours of such applications including; outdoor installs, marine, military, and factory floors etc. that can be subject to high temp, high humidity, dirt, dust, fluids, shock and vibration!
Our IP66 rated Full Stainless monitor range provides complete protection against outside contact with internal electronic or electrical components, protection against harmful deposits of dust and strong water jets being squirted from any direction against the enclosure. Available in sizes from 5.7 inches to 65 inches for Chassis Stainless enclosure.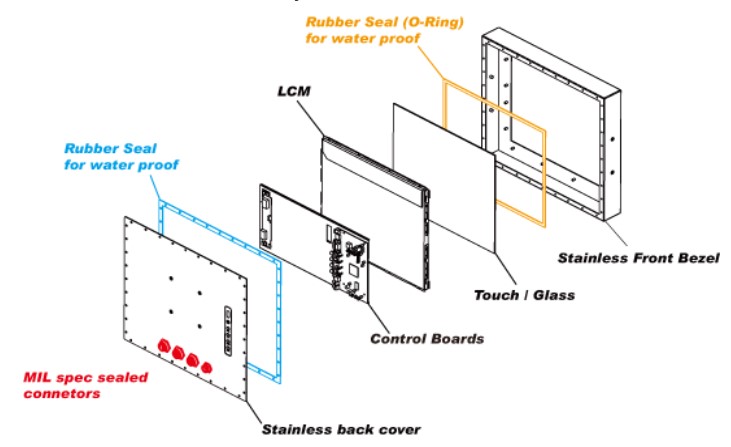 CDS's IP66 All Weather video monitors are;
Designed completely sealed to meet IP66 standards and specifications (IP67/NEMA 6 and MIL-STD/MIL-SPC upon request)
Engineered and tested to operate in extreme harsh environments
Waterproof
Shock & vibration resistant
Equipped with wide operational temperature components (extended operational temperatures available)
Built with powder-coat aluminium construction which provides excellent corrosion resistance and protection from the elements. VESA or RAM mounting holes gives you rugged and versatile mobile mounting options.
For more information please visit https://crystal-display.com/products/waterproof-ip66/
For less industrial outdoor displays check out our wide range of IP65 outdoor monitors, perfect for outdoor digital signage and advertising, please visit out Outdoor Monitor webpage.
If you need to go that one step further we can also offer IP67 monitors 8.4″ – 23.1″ and 7″ – 27″ widescreen.
For more details including info, pricing and spec sheets on our waterproof displays please contact us.