CDS's guide to Integration of TFT displays and associated technologies
CDS launch a TFT Integration Guide for 2022. As a systems integrator, CDS's custom designs frequently require means of a visual output when customers use our build to order services. CDS can engineer the right visual solution befitting the application and the environment it is to be deployed within. Unlike other integrators, CDS are agnostic where specific display manufacturers are concerned – making use of direct and indirect relationships with an established supply chain built up over our 30 years + of existence that serves every need of our display design in processes. Without bias, we only select and use TFT's & peripherals befitting to the application – which means we can meet the demands of the most challenging of applications where the deployment of displays & associated technologies is concerned.
Factors such as physical profile, viewing angles, contrast and brightness constitute our considerations towards selecting the right choice of display for an industrial application. Viewing enhancement technologies such as TN, MVA or IPS also play their part in the narrowing down of our choice of solution.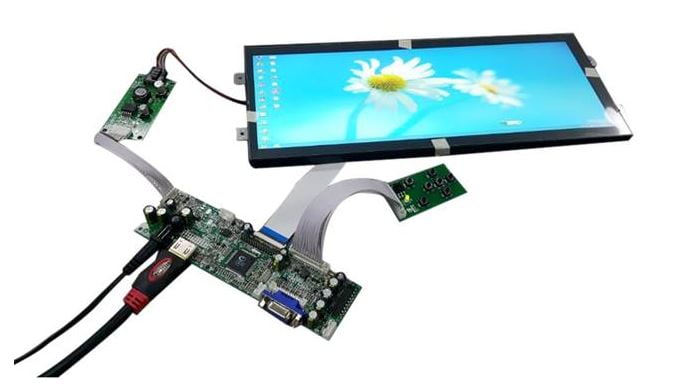 Displays & lifetime availability – make the right choice for your application
It is inevitable that in an industrial display's lifetime availability program, addressing an 'end of life' situation will need to be navigated at some stage. This is part & parcel of CDS's provision around our 'materials management services' – which constitutes any product that CDS supply (issuing of EOL notifications to allow contingencies, the management of last time purchasing and advice & help in transferring to the next generation of product). However, it is worth noting in our TFT Integration Guide, that right from the start CDS will only ever advise display product where there is a good forward compatibility program – i.e., repeatability in dimensioning and physical attributes such as positioning of electrical & data connectors and tail positioning on the next generation of product.
Lighting and Touch Controllers
The majority of TFT solutions have pre-integrated integrated LED backlight drivers allowing for easier integration. However, where certain markets require a little more control and reliability, CDS can supply and integrate separate LED backlight drivers where they are needed.
Embedded Computer and Panels PCs
CDS's core business is in the provision of embedded PC solutions – in all form factors with a multitude of performance levels.
This goes hand in hand with CDS's display integration services; as well as integrating the display and touchscreen with the required motherboard, CDS will also design and produce any peripheral supporting cabling (such as LVDS and backlight cabling) – customise the BIOS where needed and ensure extended operation with a customised embedded operating system for attended and non-attended applications. CDS also design & produce custom baseboards solutions for SOM/COM CPU modules – and design and produce custom power supplies and cooling solutions to thermally manage the overall solution.
CDS Ruggedised Vehicle Satellite Navigational Unit with resistive touch display.
Which Touch Technologies?
As with the electronic devices that we use on a day-to-day basis in our world of consumerism, it is almost impossible to get by without touch technology incorporated within industrial solutions.
Today's displays are much more than just display units. As HMI's (human machine interfaces) they also interact & 'feedback' with the user's interaction – which not only means CDS taking care of the correct selection of the display, but also the corresponding touch panel technology and controller solution.
CDS's in-house development team places a focus in ensuring the touch sensor, controller and firmware are perfectly aligned with each other. All requirements regarding gloved touch input and contact with water and dust are achieved – along with compliance for CE/EMC compatibility.
All of which means that CDS also have a vast array of touch technologies at their disposal. In today's world, human-machine (HMI) interaction is enhanced via the deployment of projected capacitive (PCAP/PCT) solutions – but resistive, SAW (surface acoustic wave) and infrared touch sensors all have their part to play if the application demands.
Resistive Touch
Resistive touch screens have remained integral parts of industrial applications due to their simple integration and, for that reason, remain a reliable and commercial attractive proposition for our customers.
Whilst the continuing trend is for more & more applications go towards PCAP, tried and tested 4 and 5 wire resistive touch technology is still very much a valid for today's demands – and for this reason, CDS still extensively adopt this touch methodology where the application allows. There are those industrial customers whose application does not necessarily require a more elaborate and expensive PCAP solution – where single input touch will easily suffice for what is needed. And the integration of the touch panel into the final application is simple; apply adhesive tape to the TFT, place the touch membrane on top – and the application is more complete (bar testing and calibration).
Amongst other things, resistive touch solutions provide reliability, optimal price-performance ratios, simple integration, long-term availability – and their ability to be operated whilst wearing gloves and high service life – 10 million touch operations plus is not uncommon. Depending on your requirements, our touch panel designs can be achieved with many options – inclusive of anti-reflection or anti-glare (AR/AG) coatings, anti-fingerprint films and privacy filters. 
https://crystal-display.com/products/analogue-resistive-touch/
Projective Capacitive (PCAP)
Projective capacitive (PCAP) touch screen technology provides many benefits including heightened touch sensitivity, a brighter and sharper display and multi-touch support to provide the user with a better over all feel & performance when comparing to other touch technologies.
PCAP touchscreen technology is (generally) now used as the preferred method of interfacing with modern day consumer devices allowing for the aesthetically pleasing 'edge to edge' cover glass look and provision a more up to date feel. CDS can produce PCAP touchscreens in a variety of sizes – but for the practical/industrial used sizes ranging from 4.3" through to 24".
Here is a selection of just some of the features that CDS can provide around our PCAP touch solutions:
Up to 10 touchpoints (dependent on the thickness of the cover glass)
Interfaces: USB, RS232, and IC²
Supported operating systems: Embedded versions of Windows, Linux, and Android
Fine tuning for glove input usage and detection of liquids on cover glass surface
Tape (Air) bonding or optical (gel/adhesive) bonding
Chemically or thermally toughened glass for the cover glass (surface AG (anti-glare) AR (anti-reflection) AF (anti-fingerprint) coatings)
Screen printing (single or multi-colour) for rear border and/or customer logo on cover glass lens.
https://crystal-display.com/products/pcap-touch-screen-overlays/
CDS Display Corner – 27 inch ThruTouch PCAP+ Monitor
CDS Display Corner – Demo for Optically Bonded Display Comparison
Optical Bonding
Optical Bonding is a process that can be deployed to provide touch assemblies with anti-reflection properties in high ambient light conditions – PLUS that of ruggedisation
At CDS we have the abilities to optically bond the TFT display, PCAP touch screen sensor and choice of protective glass cover lens.
Optical bonding the touch sensor, cover glass and the display are supplied using different bonding technologies. The bonding process takes place in a cleanroom where the air gap between the touch sensor and the cover glass is replaced with a transparent adhesive to guarantee error-free touch functionality. The front assembly of the display unit also takes place in a cleanroom and varies between air bonding or full bonding, depending on customer requirements.
During the process of air bonding, components are bonded to the display by means of a double-sided industrial adhesive. In the full bonding process, the air gap between each component (display and touch screen – and touch screen and cover glass) is bonded with transparent adhesive. CDS ensure the bonding processes are applied with a high degree of expertise via experience to improve optical display characteristics and minimise surface reflection. The most common optical techniques that CDS are involved with are air and LOCA (liquid optical clear adhesive) bonding – but we can also provide OCA (optical clear adhesive) and Hybrid bonding, too – which combines the advantages brought together by both LOCA and OCA bonding, particularly cost effectiveness is needed in associated with high volume.
https://crystal-display.com/high-reliability-optical-solutions-from-cds-with-optical-bonding/
 For more information or if you have any questions, please email our technical sales team on info@crystal-display.com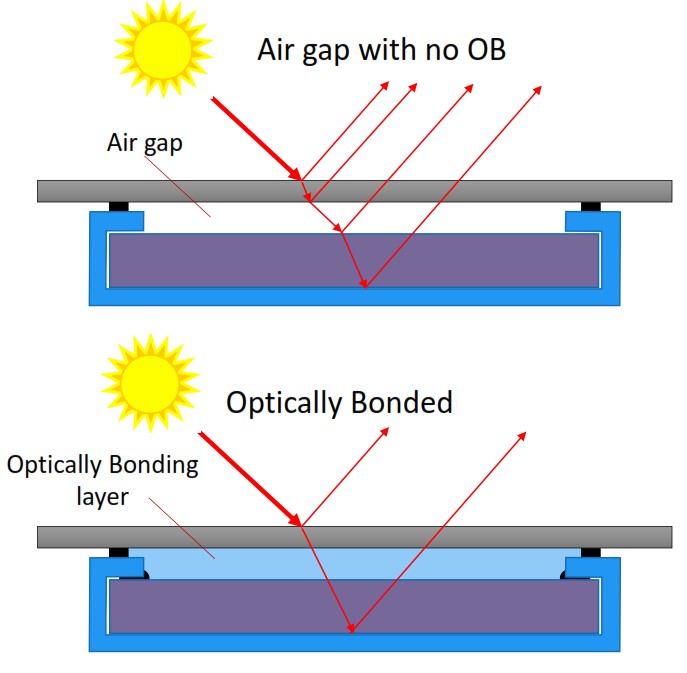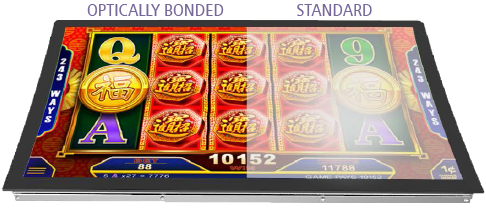 Call us today +44 (0) 1634 791600