In an overcrowded fast food industry, outlets are looking for new, exciting and cost effective ways to market their products and digital signage displays are the answer.
Back-lit menu boards traditionally used by most independent takeaway and fast food chains are being overshadowed by a new alluring means of displaying menus.
Digital signage is now acknowledged as one of the most cost effective and stylish methods of displaying menus in food outlets all over the world.
Digital displays, which are available in small and large sizes, offer numerous advantages over traditional static signage.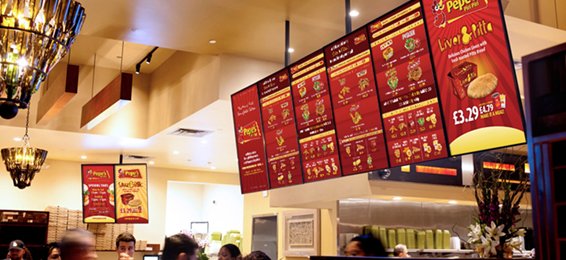 Even when displaying static slides, digital displays attract more attention than traditional signage.
This is combined with the facility to automatically show different menu slides at different times, on one screen, saving space and printing costs.
Digital signage also has the capability to display movement on menu boards in the form of video files which are significantly more enticing than static images for customers.
With the advantages offered by digital signage to food outlets and the ever decreasing costs of LCD displays it is no surprise that more fast food chains, and independent retailers, are converting from back-lit to digital menu boards.
Interested? One idea could be our AIO digital menu boards with commercial grade LG IPS panel, integrated android media player, narrow bezel, a menu board template library, free software license and much more. Available in 32″, 43″, 50″ and 55″.
But we have so many ideas for digital signage for you! Engage and excite your customers!
Check out our full range of Digital Posters
For more information about the whole Digital Signage range we can offer please click here.
Or alternatively email info@crystal-display.com or call our main office on +44 (0) 1634 327420