Most of the offerings in the market are generic tablets and there are very few companies offering industry specific, ruggedized tablets, which is why we are promoting the N-Series Range.
The difference between the enterprise N-Series tablet starts from the design. Consumer tablets have batteries, no fixations, exposed controlling buttons, no lock down function and do not have LAN cables for security purposes.
Enterprise tablets have mountings, function specific, with lockdown software to prevent third parties from accessing the controls, and the support of the product is 3-5 years, whereas consumer tablets changes models frequently, this leads to the heavy cost of re-engineering and re-testing of software and trying to keep up with the latest consumer tablet models.
There are many low-cost tablets out there in the market that look and work exactly like a premium tablet, but the key difference is stability and reliability.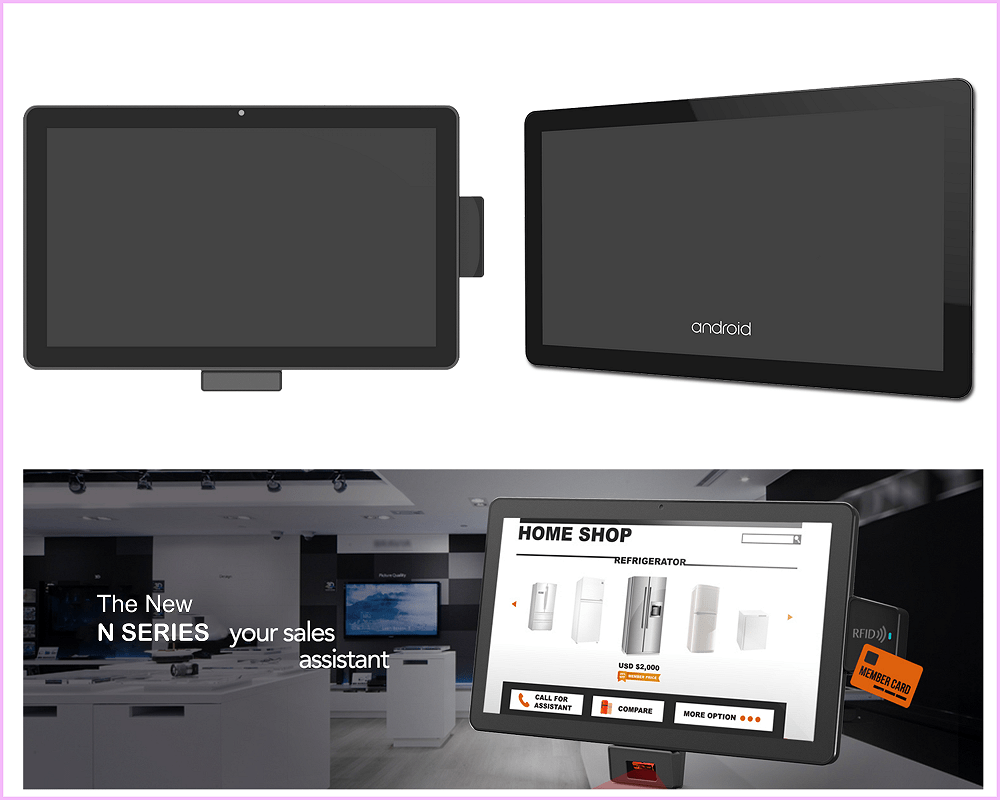 Low cost tablets tend to use storage chips such as NAND flash and these have a limited read and write cycle. Meaning the system stored inside will become corrupted after a period and the tablet will fail to start.
Our N-Series displays have a dedicated controller inside in which regulates the data stored and thus creates stability for the entire system. Components' durability is not such an important aspect for consumer tablets as they tend to use capacitors that operate at a lower temperature rate. This doesn't negatively affect them as the tablets are only used for a brief period unlike kiosks which are mainly operational 24/7.
The choice of multiple I/O is also a huge benefit. Barcode readers, printers, card swipe and now RFID and NFC are some of the common essential modules which can be added. This requires a lot of I/O such as USB and RS-232 from other requirements. Consumer tablets do not have this since the design needs to be portable and the average consumer will not need that amount of I/O.
Cost is another issue as more electronics components and module drivers in the firmware are needed to generate the power for these modules. Consumer brands usually will not need most of these add-ons, but it is a huge factor for many kiosk projects.
As well as this if people are looking for customisation this cannot really be achieved with consumer tablets including even simple alterations such as touch interaction.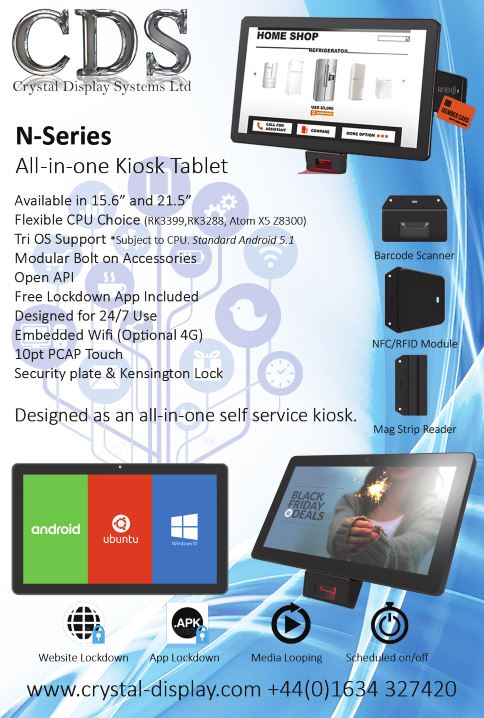 Check out our full range of Android Tablets
Interested further in our digital signage range? Please visit our digital signage webpage. 
Or to simply find out more information about this product and request data sheets contact the team via email or call our UK main office +44 (0) 1634 327420