The stylish and striking 43″ Slimline Digital Advertising Display.
This generation of Slimline Digital Advertising Displays will retain many of the great features their predecessors had, such as a built in HD media player, free wall mount for landscape or portrait mounting and free scheduling software.
They will also have the following improved features:
• Improved Playlist Editor Software: now supports scrolling text to compliment your content and get your message across more effectively.
• Giant tablet-like aesthetics: the rounded corners, slim profile, glass front and aluminium frame give the range of screens greatly improved aesthetics.
• Improved internal HD media player: now supports a wider range of image and video file formats as well as the ability to transition between videos seamlessly.
• Internal memory: this has been doubled to 4GB.
• LED backlight: these offer improved brightness, contrast, lifespan and power consumption.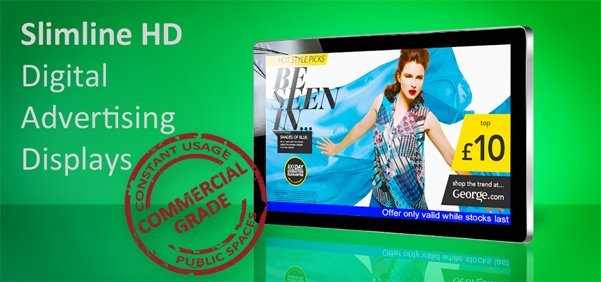 These striking and elegant displays are bound to catch your audience's attention and with their subtle profile they will integrate seamlessly into any environment. Whether it's a restaurant or salon, reception area or retail environment, these displays are the ideal Digital Signage Solution to get your message across.
The 43" Slimline Digital Advertising Displays are in stock and available for immediate dispatch.
To find out more, visit our Slimline Digital Advertising Displays page.
For more information, please email info@crystal-display.com or call our main office on +44 (0) 1634 327420.