CDS TRANSPARENT OLED SOLUTIONS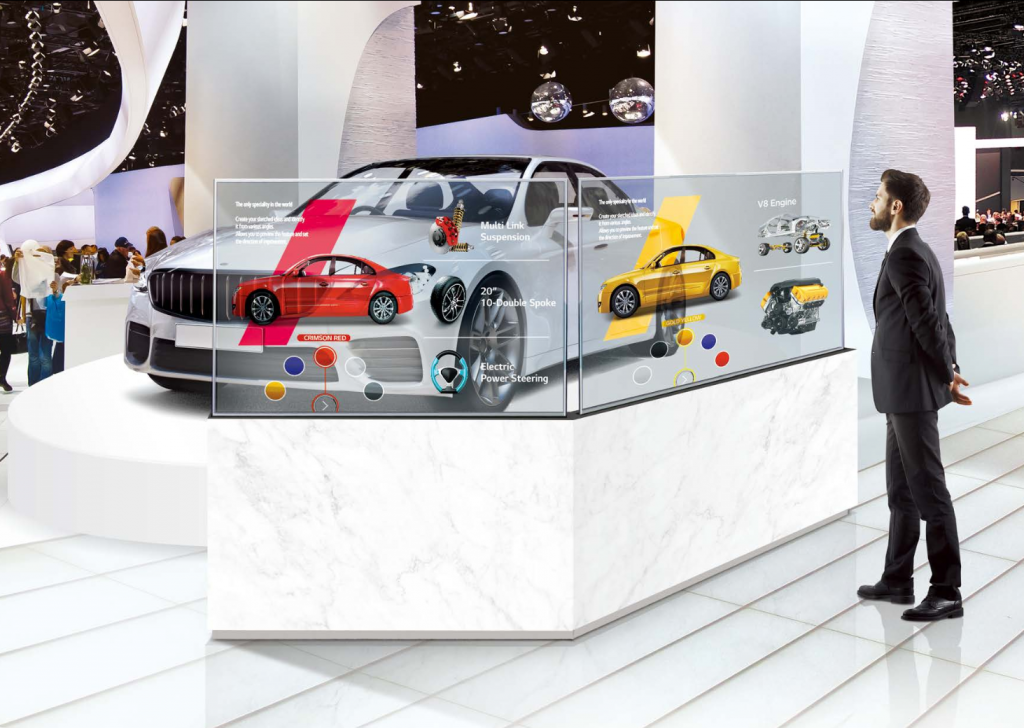 Key features of our GhostT OLED solution:
Optimised High transparency (translucence) of 38 %
30,000h life time, 18/7 operating time possible with 3 years warranty
400 cd/m2 peak brightness
Full HD resolution optimising excellent graphics and full motion video
Ultra-wide viewing angle with no 'off-axis' brightness or contrast limitations
Optional touch function with Touch Kit Overlay
DisplayPort (DP), HDMI and USB connectivity, with full RS232 control
Ruggedized with optically bonded front protective glass.
Portrait or Landscape orientation use
Ceiling mounted, table mounted, or flat using custom mounts (see below)
Can be used as a videowall tiled solution including brightness compensation and image optimization
Many options including achieving AR (Artificial Reality) effects in the dark to WOW viewers with that extreme experience.
The GhosT Transparent OLED product line allows our customers to create true see-thru installations with this virtually frameless display solution. Its innovative OLED technology eliminates the requirement of a backlight offering strong vivid colours and ultra-wide viewing angle, but also an impressive transparency of 38%!  Dark image contents appear transparent and bright image contents opaque to potentially mask products behind the display.  The GhosT OLED range has been specially developed for the professional AV market and has been upgraded from previous versions of the Translucent OLEDs available and is suitable for Retail, museum, exhibition / trade shows, corporate headquarters as well as interactive applications and environments.  The GhosT T-OLED can be easily installed in walls or tables (see below), used as a stand-alone solution or as a transparent video wall and even made touch interactive thanks to the various product versions and the associated flexibility. For every kind of installation there is the optimum configuration available with a wide range of accessories (see below). All OLED products come with a 3-year warranty.
Based on the LG 55EW5F-A base open frame solution the GhosT T-OLED solution has been re-engineered to create a better and more reliable mechanical solution for open areas whether that be rental or fixed space applications. As you can see below the highly engineered solutions have helped take the LG base OLED panel to the next level to make it easier and more flexible for our customers and the end users / brands. This is not just a Transparent OLED panel but rather an optimised T-OLED solution for our customers and partners applications. This Exact solutions product is distributed in the UK and beyond by CDS to give you that optimum engineered product with excellent local technical and commercial support.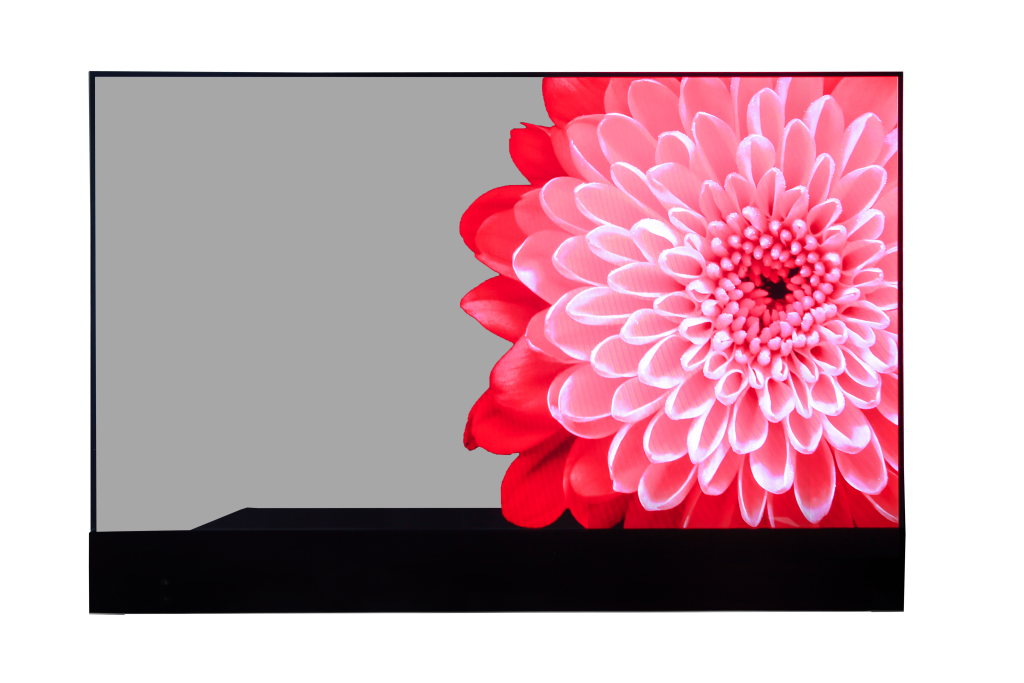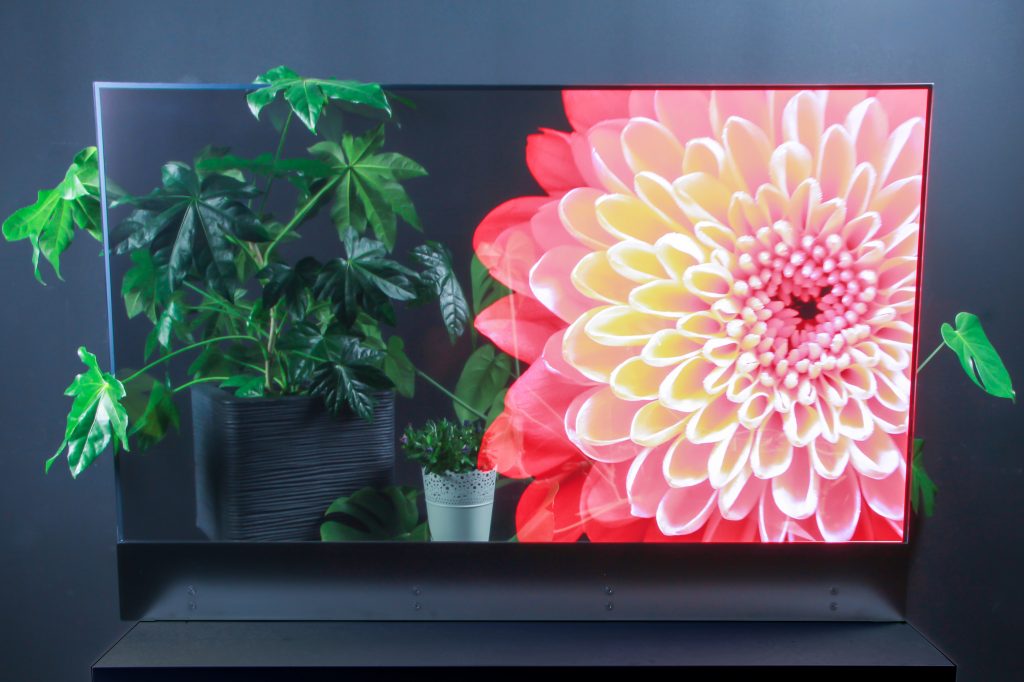 | Specification | GhostT OLED | Competitor's OLED |
| --- | --- | --- |
| Warranty Warranty | 3 YEARS | 1 YEAR |
| Lifetime | 30K HOURS | 20K HOURS |
| Flexible Design? | Yes | No |
| Detachable Signage Box | Yes (Half Kit) | No |
| Touchscreen? | Yes | No |
| Operating Time | 18 hours per day | 12 hours per day |
AVAILABLE IN 3 DIFFERENT CONFIGURATIONS: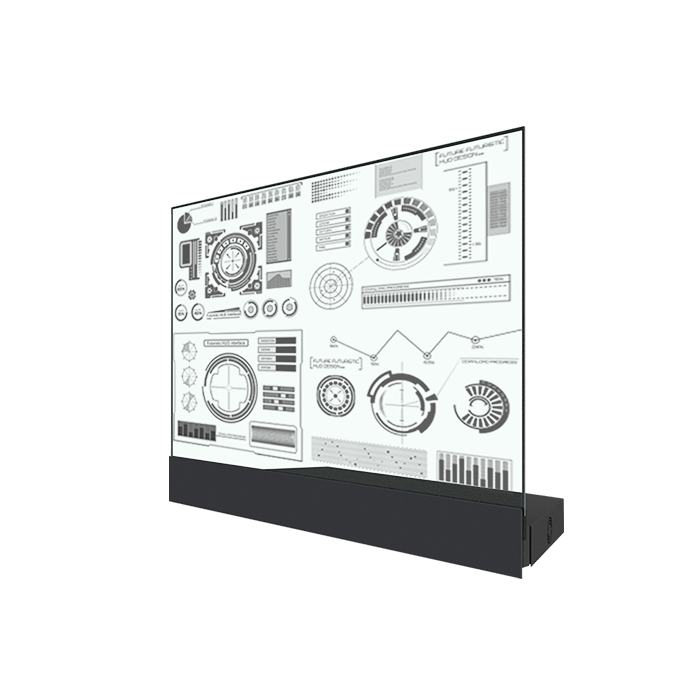 Full Kit
Full Kit
All In One Solution (panel, signage box and FFC). Ready to use out of the box. Easily switched between table mode and straight mode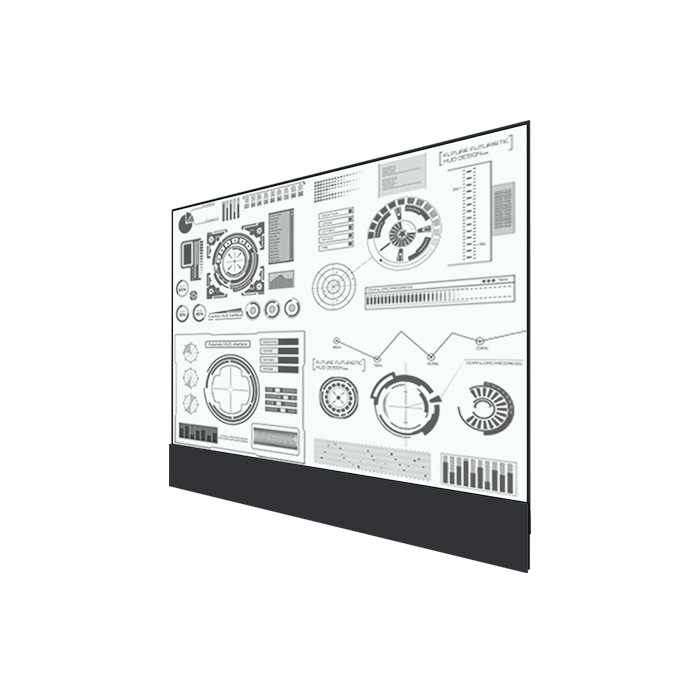 Half Kit
Half Kit
The signage box is not bolted to the display for greater flexibility with the installation. Signage Box is connected via 4 x 1.5m Flat Flex Cables so box can be installed out of sight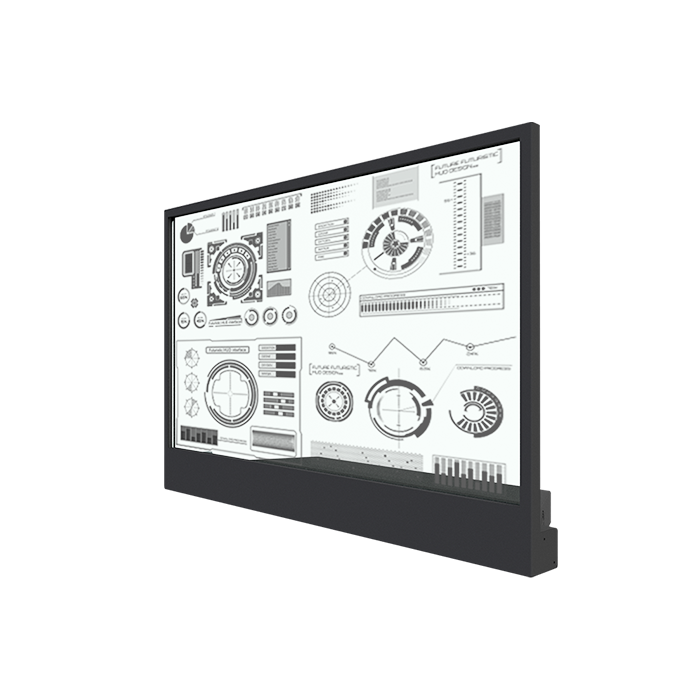 Touch kit
Touch Kit
Same as the full kit but with an added touchscreen for user interaction. Both IR and PCAP touchscreens are available.
The Most Durable Transparent OLED - EVER
To guarantee optimum protection, the GhosT Transparent OLED is bonded to a layer of tempered glass using optically clear adhesive.
The tempered front glass protects the screen from external impact, and its unique design means it is reliable enough to endure shock and vibration caused by the surrounding environment such as moving trains or vehicles.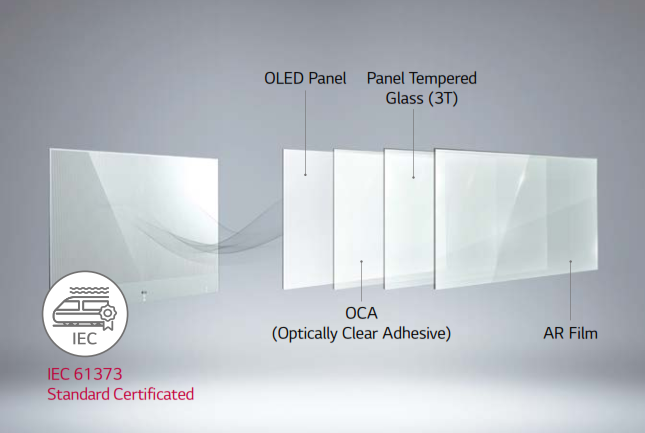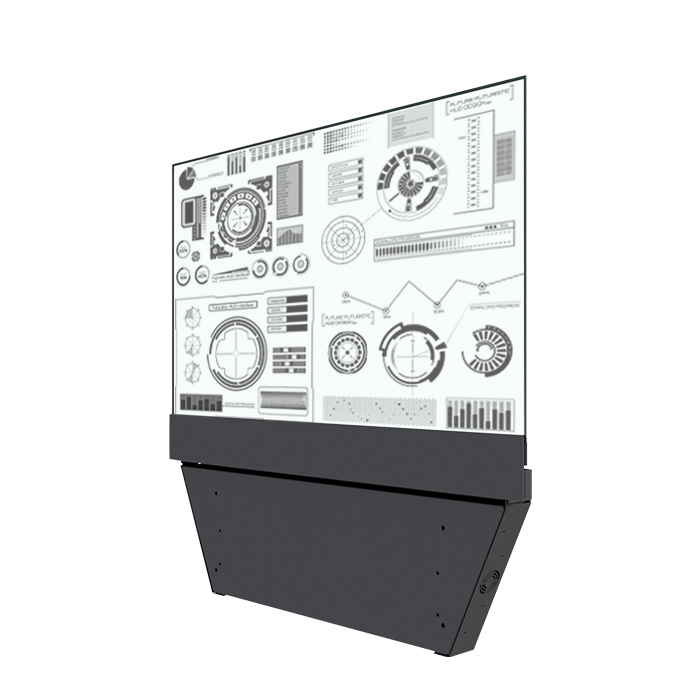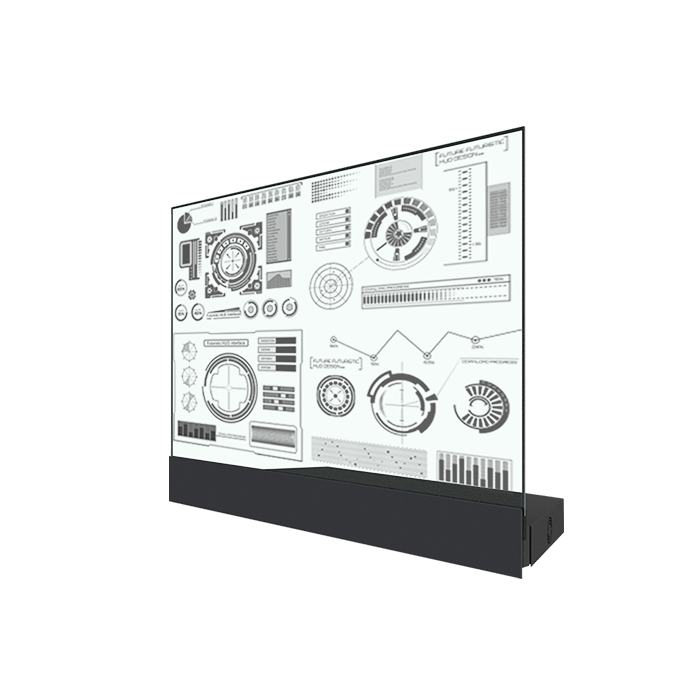 Easily switch between straight mode and table mode
The GhosT Transparent OLED display has been designed to offer maximum flexibility.
The signage box on the rear can be used in table mode or straight mode, and can easily be switched between the 2 modes in minutes.
Remove the bolts holding the signage box in place, adjust the position and then replace the bolts. Ready!
Signage Box Interface
| Interface | Usage | Quantity |
| --- | --- | --- |
| USB IN | Play content from USB Drive | 2 |
| HDMI IN | Video Input | 1 |
| DP IN | Video Input | 1 |
| DP OUT | Daisy Chain DP Signal | 1 |
| LAN IN | Controlling / Monitoring | 1 |
| LAN OUT | Daisy Chain LAN Signal | 1 |
| IR IN | External IR Receiver | 1 |
| RS232 IN | Controlling / Monitoring | 1 |
| RS232 OUT | Daisy Chain RS232 Signal | 1 |
| AUDIO OUT | Connecting to External Speaker | 1 |
| LC IN | Daisy Chain LC Signal | 1 |
| LC OUT | Daisy Chain LC Signal | 1 |
Need Something Larger? Why not use an OLED Videowall?
We have had many requests over the years for Transparent OLED videowalls.
As a result we are proud to offer both 2 x 2 and 3 x 2 frames to make the solution a reality.
Available with and without touchscreen!
If you are looking to create a special installation then you could use the GhosT OLED lifter solution. The mechanism can be operated by the control panel or via RS485 protocol. We supply it open frame like the images below, but the video shows you how effective it is once it has been enclosed.
Looking For A Custom Solution?
Here at CDS we appreciate every application is different and this is why we offer bespoke solutions, customised to suit your project requirement.
The OLED is no exception and this is why we offer so many different configurations. You can even customise the colour of the base if required.
We believe we have covered all needs with our Transparent OLED solutions, but if you have a specific requirement you would like to discuss then please get in touch to discuss your ideas and project requirements.
Need More Information? Contact Our Sales Team Today