The game changer in Transparent display technology has arrived: The LucidVue!
Inspire, Engage and entertain your audience with a whole new genre of transparent Display systems.
Based on Transparent OLED ('TOLED' Organic Light Emitting Diode) Technology, this is an inspiring evolution in display principles which eliminates the need for display lighting and showcase box. This development in technology creates so many more options for you to innovate in a world of display!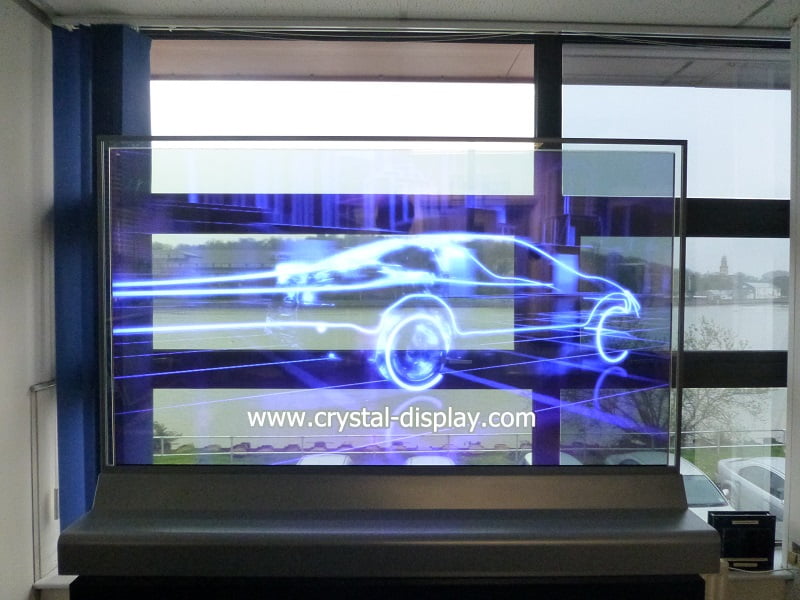 The LucidVue can dramatically improve brand impact, astound your guests / customers, help you to set yourself apart from the competition or inspire the next generation. Possible applications for this amazing new technology include; Retail Promotion, Hospitality, Exhibitions, Museum and Entertainment, Digital Signage and many more!
This new genre of technology adds a further dimension to our standard transparent display offerings, giving some real benefits for high end applications that require an emissive display, it complements our existing range T-LCD panels.
LucidVue TOLED displays are currently available in a 55" module & utilise the very latest production techniques, this self-emitting display enables a crisp image while also offering a high transmittance rate of around 45%.
The self-emissive pixels contain 4 sub pixels, Red, Green & Blue for generating outstanding vibrant colours, and the final sub pixel (which would typically be black) is now clear, facilitating the transparency.
Poly-silicon TFTs act as the switching method for the Active Matrix of OLED generating a sumptuously rich colour palette of over 1 Billion Colours, with a 180 degree viewing angle in both Vertical and horizontal planes, delivering a mind blowing visual to even a large audience.
To take a look at our other Transparent Displays please take a look at our Transparent Displays
For more information on LucidVue OLED please contact us via email or call our UK main office on +44 (0) 1634 327420