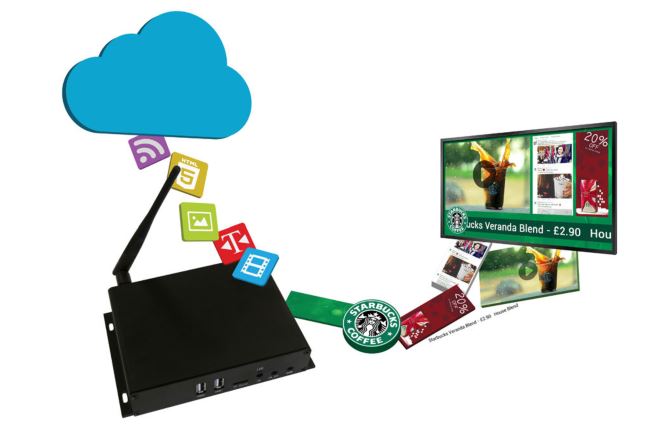 Our Networked Media Players can be connected to a wide range of professional LCD Displays and monitors to create the perfect Digital Signage Solution.
Our Network Media Players can be connected to the internet via LAN, Wifi or even 3G.
Once they are connected to our cloud based CMS software you can update from anywhere in the world with an internet connection.
Our simple interface allows you to easily control your entire network, allowing you to create groups and update multiple players at a time.
We have templates so you can use a combination of images, videos, RSS and text on screen simultaneously.
You can even schedule playlists and review statistics for each of your players giving you a complete overview.
Key Features; 
Built in Wi-Fi
Simple network solutions – no software installation required.
Cloud based digital signage software – use the cloud based portal to upload content, design multimedia zone layouts with a live TV zone, create playlists and schedules and more.
Environmentally friendly power time
Commercial grade components
Integrated android media player with super fast processing speed
Can manage users
Schedule playlists
Remote screen functions through the CMS
Update your screen from anywhere
Back up USB updates
Take a closer look by checking out the spec sheet below;
For more information on our networked solutions, please contact us.