In our incredible range of freestanding totem poster displays we have 50" and 55" freestanding displays available as standalone digital posters, networked displays and are also available with touch.
Key Features & Benefits;
Built in HD media player
Free Scheduling Software included for displaying different content at different times of the.
"Ticker Tape" style scrolling text messages available
HDMI input, VGA and 5mm audio jack inputs.
Space to fit a small PC or media player inside the lockable compartment.
Eco-friendly power timer
Fitted with a commercial grade LCD panel.
24/7 constant use and a wide viewing angle.
No buttons, controls, logos or branding on show.
Much brighter than LCD panels found in home TVs or computer monitors.
Their tempered glass face, rounded corners, super slim profile and aluminium surround all add to their captivating tablet-like aesthetics and also protect the internal components from potential damage.
Please visit https://crystal-display.com/products/slimline-freestanding-advertising-displays/ for more information.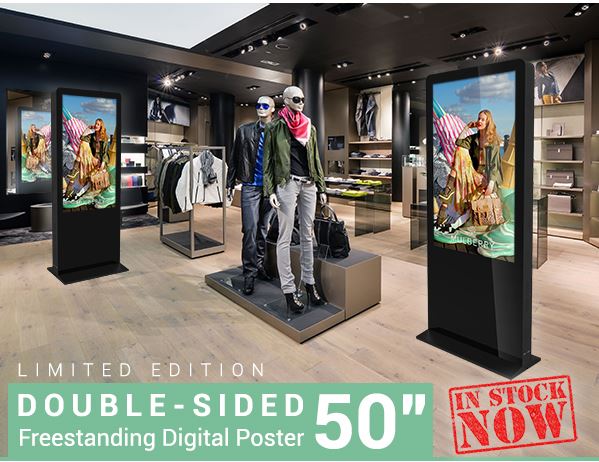 We also have dual sided freestanding displays available in 50". Double the message with a double sided display. Please check these out here https://crystal-display.com/double-the-impact-with-double-sided-lcd-displays/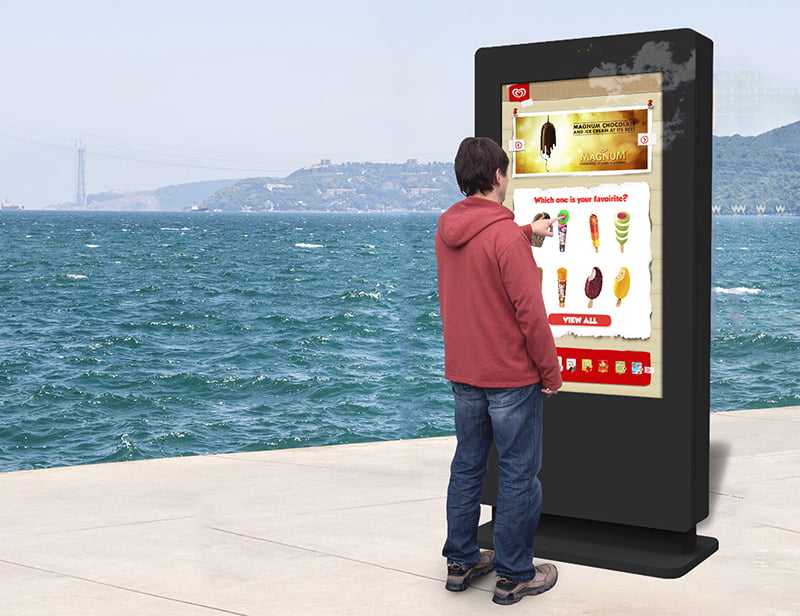 As well as this we can offer outdoor versions, available in 49" and 55" also available with touch interaction.
Key Features & Benefits;
Ultra-high brightness panel of 2500 nits
Advanced temperature control
Toughened glass
Sturdy enclosure
Anti-reflective glass
External ports to attach devices
Dust Tight
Weather proof
Lockable wall mount
Customisable – networked features, cameras or custom sizes
Touch upgrade with 10 point PCAP functionality
Please check out https://crystal-display.com/products/outdoor-monitors/ for extra information.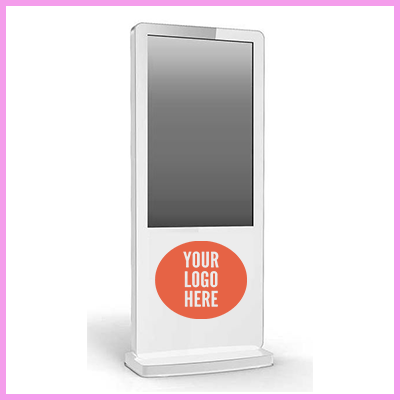 As well as all of this we can also custom design the displays for you with custom colours and adding you logo 😊
For more information about the Freestanding Digital Posters click here.
Or alternatively email info@crystal-display.com or call our main office on +44 (0) 1634 327 420 for quotes, spec sheets and pricing.