Lumineq® embedded TFEL displays are rugged and reliable. Durability is proven by surviving up to 200 g-force shock and a staggering 250,000-hour mean time between failures (MTBF) for the display glass.
TFEL displays are capable of instant-on performance from -60 °C to +105 °C (from -76 °F to +221 °F), with instant pixel response over the entire temperature range, and no motion blur.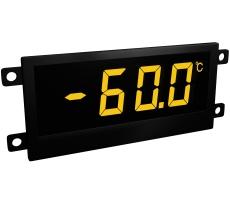 Lumineq displays are true enablers. If you are looking for reliable displays for extreme conditions, the TFEL displays are the display of choice. If you want to capture the magic of transparency, contact us for a customized TASEL display. The opportunities created by our displays for extreme conditions, by adding a see-through display to a new product or by adding content to an existing window surface are literally limitless.
CDS are also offering Lumieq's custom display build services.
For more information please visit our Beneq's Electroluminescent Displays webpage 
If you have any questions or would like any additional information, pricing or datasheets, please contact us via email or call us on +44 (0) 1634 327420.