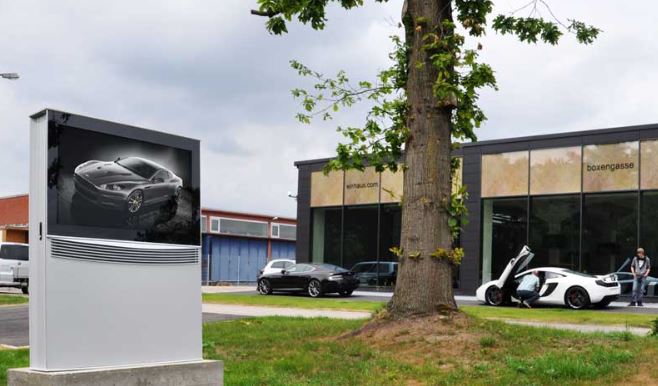 CDS Outdoor Display Applications  – Our range of high bright LCDs are perfect for Outdoor Applications. With our narrow bezel models the LCDs can be easily integrated in custom outdoor enclosure designs as well as a new, modern medium for engaging presentations on building exteriors. With brightness rating as high as 5,000 nits the LCDs produce an easy to see daylight viewable image with low power consumption. The fanless cooling system design also enables enclosure builders the ability to control the air flow within the structure for maximum efficiency. Extension kits are available for both infrared and ambient light sensors for easy relocation.
 Key Features; 
Ultra bright up to 5,000 nits
Blackening defect free
Viewable in direct sunlight
Heat and dust resistant design
Low power consumption
Automatic brightness control
 Suggested Users for CDS Outdoor Display Applications;
Advertising
Directories
Bus shelters
Vending machine / ticket kiosks
Way finding
Drive-through menu boards
Movie theatres
Special events and promotions
Big box retailers
CDS Outdoor Display Applications – Pricing and drawings are all available for our high brightness LCDs, please ask for more details!
CDS outdoor displays come with simple but modern design, can assimilate into many different city's style, 2500nits or more brightness, FHD resolution brings the attractive performance for advertising, as a kind of outdoor digital signs it is also IP65 (IP66 also available) standard can work for many different projects like bus and coach stations, municipal project, tourism and so on. The outdoor LCD digital signage come with OMC system, which is use for monitoring the working status of the totem, like temperature, humidity, screen on/off status, fan's working speed, check if door closed well and so on, this save lots of labour work compare to traditional maintenance method.  CDS offers a cloud service for our CMS system which is used for remote content management, can help you manage all the sites all around the city or even all around the world just with a simple reliable network connection.
To check out some high brightness LCDs take a look at our Super High Brightness LCDs webpage or for our high bright video wall displays please visit our High brightness Video Wall Displays page
For more information on our High Brightness products or another of our other display products please contact us via email  or simply call our UK office on
+44(0)1634 791600